Terrel Barros Conviction Overturned After 11 Years in Prison
Georgetown students' investigation was critical in judge's decision; Barros now hopes to be exonerated.
Eleven years into a double life sentence for a murder he did not commit, Terrel Barros walked out of a Rhode Island prison on Aug. 15 with his conviction overturned. 
While his fight to prove his innocence isn't over, Barros is closer to true freedom than he has been in over a decade. In vacating his conviction, a Providence County judge cited statements from a newly discovered witness and evidence that Barros didn't receive a fair trial or effective counsel back in 2013. Barros was released on bail and is hopeful that with the latest developments, the charges against him will be dropped. He will remain on home confinement for now.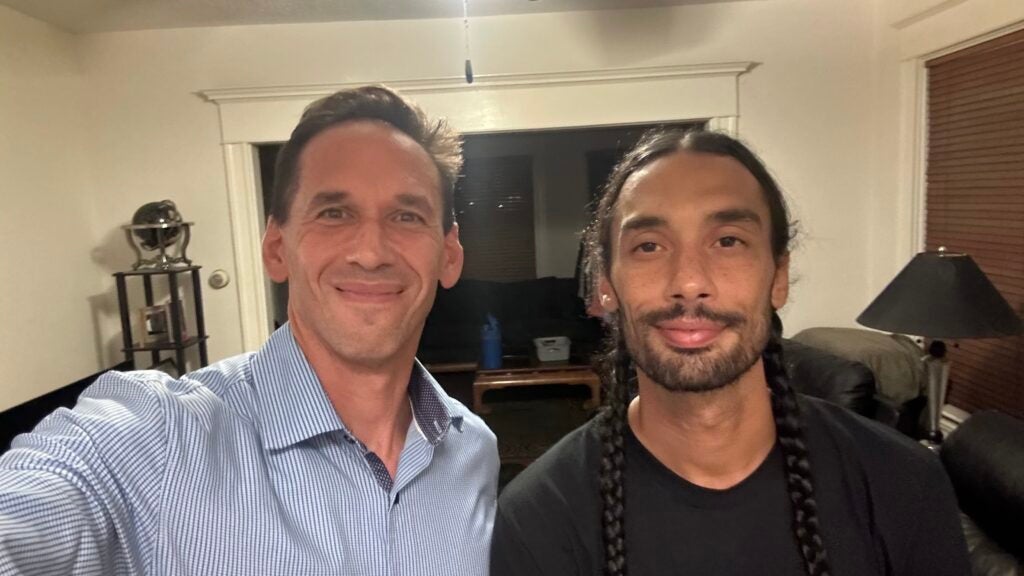 "We're thrilled that Terrel's conviction was finally overturned in light of information that wasn't available 11 years ago," said Marc Howard, Director of the Georgetown Prisons and Justice Initiative, whose students reinvestigated Barros's case. "We hope that the state of Rhode Island will justly dismiss the case against Terrel so that he never has to see the inside of a jail cell again."
When Barros was released, his mother Kym Mulroy was the first person to embrace him. Terrel is "my everything," she said, and she has stayed determined and hopeful that she would have the chance to see her son freed. 
"I said, 'Terrel, this is not what your life is going to be,'" she recalled telling him after he was incarcerated. "'We're going to fight this, and we're going to fight this until you get home.'" 
Barros, who has been represented post-conviction by attorney Bob Kando, has always maintained his innocence in the August 2012 shooting outside of a Providence, R.I., nightclub that killed Jamal Cruz and injured Rokiem Henley. Barros, who had gone out that night with a group of friends, was arrested on the scene. 
Barros's story and compelling case for innocence drew the attention of Georgetown University's Making An Exoneree program in 2020, when three then-undergraduates began reinvestigating the crime and Barros's conviction.
Their research culminated in a short documentary that detailed a series of injustices that sent Barros to prison – even when another man, Stephen Bodden, was found holding the gun and confessed to police and several friends that he had fired the shots. 
"When this first happened, I believed my son. I knew. I raised him to be responsible for anything you do," Mulroy said. "I could tell from the second day of the trial what they were going to do to my kid."
Convinced of Barros's innocence, the Making An Exoneree team joined up with his family, friends, and other supporters to advocate for his release. In addition to creating the documentary, students Nourjannah Hendi, Caroline Porterfield, and Leonardo Teixeira also launched an Instagram page, online petition, and fundraiser to support Barros' reentry.
"The more details we learned about the case, the more inconceivable it became that Terrel was wrongfully convicted of this crime," Hendi said. "Even after facing so much injustice, Terrel and his mother never gave up. We are proud to play a small part in bringing them back together and for providing hope for others who are innocent in our injustice system."
Uncovering New Evidence
Terrel's release was due in part to a new witness who came forward after watching the students' documentary. After seeing the video online, a cousin of Bodden reached out to Barros's mother on Facebook. She went on to state that shortly after the shooting and on several other occasions, Bodden told her that he was responsible and that Barros had been "in the wrong place at the wrong time." Bodden was shot and killed in 2017.
This new information was one piece of evidence that convinced Judge Luis Matos to grant Barros's petition for post-conviction relief. 
"We wouldn't be here right now without Georgetown," Mulroy said. "It was a gift."
In addition to the new witness, the judge also agreed that Barros's original attorney had been ineffective and that the prosecution had intentionally misled the jury about DNA testing results that actually excluded Barros and implicated Bodden. 
Barros is now entitled to a new trial and a chance to put on a fair defense – but it's possible he won't have to if the state drops the charges.
"He's ready to start his life, but they've got him on hold," Mulroy said. "I know what we have for evidence to prove Terrel's innocence."
Making An Exoneree
Barros's situation is not dissimilar from that of Making An Exoneree co-professor Marty Tankleff, who was wrongfully convicted in the murder of his parents when he was just 17 years old. Tankleff's conviction was overturned after he spent nearly 18 years in prison, but it took several more months of additional investigation before New York prosecutors agreed to drop the charges. 
"As I know from my own experience, the criminal legal system isn't designed to correct itself, even when an innocent person is sentenced to die in prison," Tankleff said. "Terrel has so much to offer the world, and I hope that as soon as possible he will be free from the shadow of this wrongful conviction and can start to move forward and rebuild his life, just as I have."
Tankleff and Howard – who are childhood friends since the age of 3 – turned Tankleff's wrongful conviction into the foundation for the Making An Exoneree course. Each spring, undergraduate Georgetown students in this highly selective course work in small groups to reinvestigate likely wrongful conviction cases in pursuit of uncovering the truth and helping bring an innocent person home from prison. They review files, travel to the original crime scenes, conduct interviews, speak with family members, create short documentaries, and launch online campaigns. Since its start in 2018, Making An Exoneree has taken on 34 cases, and the program expanded to Princeton University in 2023.
Barros is following in the footsteps of past Making An Exoneree participants Valentino Dixon, Eric Riddick, Keith Washington, Arlando "Tray" Jones III, and Kenneth Bond, who are all now free men thanks to the Georgetown program, as well as Muti Ajamu-Osagboro, who was paroled this June thanks in part to the Princeton version of the program. Each case and release is unique, but all of them have involved a network of dedicated supporters and advocates working to bring the truth to light and correct injustices in the criminal legal system. 
In Barros's case, the Making An Exoneree team, his legal team, and his wider support network will continue to push for his full exoneration.