Eric Riddick Released from Prison 29 Years After Wrongful Conviction
Riddick was the subject of a "Making an Exoneree" documentary by three Georgetown students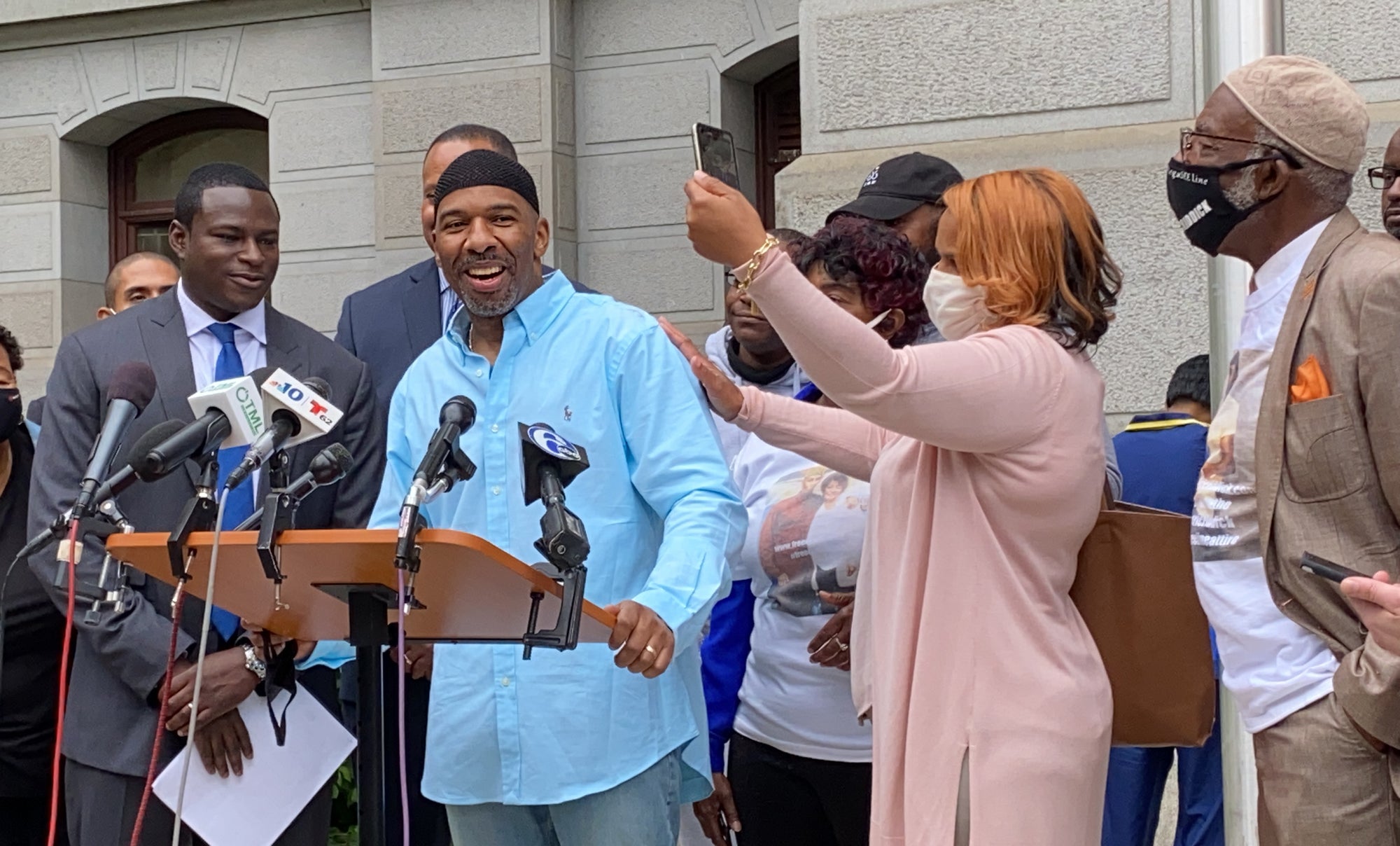 More than 29 years after he was wrongfully convicted for murder, Eric Riddick walked through the doors of a Philadelphia courthouse a free man.
"I'm a little overwhelmed. First of all, I'm grateful," Riddick said, addressing the press and a small crowd of family and supporters. "It takes a village to raise a child. This is testimony that it takes a village to raise justice."
Riddick's release immediately after a May 28 hearing is the culmination of a case that has drawn national attention as a blatant injustice against an innocent man. Philadelphia's Conviction Integrity Unit, led by Assistant District Attorney Patricia Cummings, fully supported Riddick's release. 
"The Commonwealth absolutely accepts responsibility for what we believe was the wrongful conviction of Mr. Eric Riddick in 1992," Cummings said to an outburst of applause and cheers from those in the courtroom.
Cummings noted that in the original trial, information that could have helped Riddick's case was never shared with his defense attorney. Judge Lucretia Clemons agreed, saying that in her view, "there was a constitutional violation" of Riddick's rights. 
Through an agreement between the district attorney's office and Riddick's defense attorney Emeka Igwe, Riddick pleaded no contest to the charges against him. His sentence was reduced from life in prison to less than time served, allowing him to be immediately processed for release.
"I met Eric two years ago, and when I met him I was impressed by how strong he was, his strength of character, his resilience, his determination to fight for his freedom," Igwe said. "The evidence showed he was innocent 29 and a half years ago, and today we finally got vindication and validation."
Making an Exoneree
Outside the court building, Riddick reunited with his family and close friends — and with the group of Georgetown University alumni and faculty who helped advocate for his release. 
Riddick was the subject of a 2019 short documentary and online campaign by Alexander Buffone, Kendell Long, and Taylor Riddick (no relation to Eric Riddick). At the time, the three were Georgetown students in a course called Making an Exoneree, taught by professors Marc Howard and Marty Tankleff. Riddick is the second Making an Exoneree case to be released: Students in the 2018 cohort advocated for Valentino Dixon, who was ultimately exonerated that same year.
The students' work pulled together the witness statements, testimony, and forensic and ballistic evidence to tell Riddick's story and advocate for his exoneration. In April 2019, the students and Riddick's legal team presented the case for his innocence to the Conviction Integrity Unit. 
"The more we learned about Eric's story, the more shocking it was that he was still incarcerated after nearly three decades," Taylor Riddick said. "We're lucky to have gotten close with Eric and his family throughout this process and to be among the many people advocating for his release. We're so happy and relieved to see Eric back home where he belongs."
The Eric Riddick case
In January 1992, Riddick was arrested and charged with the murder of William Catlett, his childhood friend, two months prior in southwest Philadelphia. The state's case centered on testimony from a single eyewitness, Shawn Stevenson, who told police that he saw Riddick shoot Catlett from a fire escape. 
In 1999, Stevenson recanted his statement, writing that he was under pressure from friends of Catlett and from the district attorney to identify Riddick. However, Pennsylvania law at the time required that new evidence be filed within 60 days to be considered. Riddick says he didn't physically receive a copy of the affidavit until 2003. By the time he filed for post-conviction relief, it was too late. 
"It's a tragedy that in Eric's case, a legal statute that was supposedly intended to give convicted people an opportunity to prove their innocence did just the opposite — it shut down Eric's chances to acquire justice," said Howard, who leads the Georgetown Prisons and Justice Initiative. 
With Stevenson's statement inadmissible, Riddick's repeated attempts to prove his innocence in the years that followed were denied. 
When the 1991 shooting took place, two witnesses told police at the time that Riddick was with them two blocks away. But Riddick's court-appointed counsel declined to call them as witnesses at his trial. 
Witnesses also gave police information at the time that implicated another man, Edward "P-Nut" Johnson, as the shooter. Johnson was killed in 1997. In 2005, Johnson's father submitted an affidavit to the court confirming that his son and a friend were responsible for Catlett's death. "My son had always expressed regret that Mr. Riddick has sat in prison for a crime that he had nothing to do with," Bruce Reese wrote. In 2019, two other witnesses signed affidavits saying that they saw Johnson shoot Catlett.
In 2012, a ballistic expert also evaluated the evidence and concluded in a report that Riddick could not have been the shooter. Catlett was shot from a straight to upward angle and by two different guns — making it impossible for Riddick alone to have shot him from the fire escape above and behind Catlett.
Two Superior Court judges acknowledged in 2017 that they were prevented from correcting "obvious errors" by the particulars of the Pennsylvania Post-Conviction Relief Act. "It is clear to all that it is likely that an innocent man sits behind bars for no better reason than a poorly conceived statute," the statement reads. 
In 2019, Stevenson submitted a new affidavit reaffirming that he never saw Riddick shoot Catlett.
"Nearly everyone who has looked into this case recognizes that Eric should have never been convicted. Even though it has taken nearly 30 years, we're thrilled that Eric finally received his public vindication in court today," said Tankleff, who himself was wrongfully convicted of murder and served more than 17 years in prison before being exonerated, and who is now an attorney and adjunct professor.
Continuing the fight
Riddick's mother Christine, his wife Dana, and their family have been in a long fight for Eric's freedom and have been supported by grassroots organizers and even rapper Meek Mill, who got to know Riddick while they were both incarcerated. An online petition organized by the Georgetown students gained over 500,000 signatures. Philadelphia Council Member David Oh, who was present for Riddick's release, has been among those calling on Pennsylvania Gov. Tom Wolf to issue a full pardon.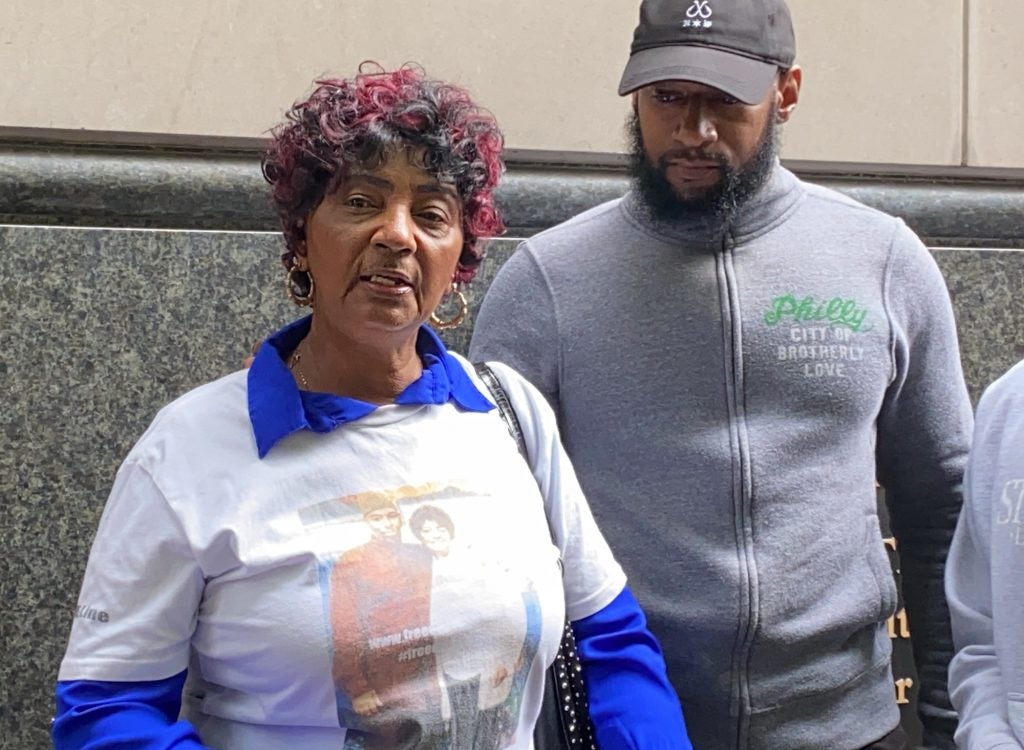 Riddick and his family are going to take some time to catch their breath and enjoy being together again, especially after COVID-19 restrictions limited in-person prison visits. But they also made it clear that they're not slowing down their advocacy. 
"It doesn't end here today. It doesn't end here with Eric Riddick. It'll end when the judicial system is a system for all people, not just one select group of people. And this is what I will continue to fight," Christine Riddick said. 
There are more cases like his, Eric Riddick said, keeping people in prison for crimes they didn't commit. 
"We have a lot of work to do. I'm here to tell everyone that there's a plethora of individuals still hanging from the noose of a wrongful conviction," he said. "It's going to take the people at the grassroots like it did with my situation."
For more information on Eric Riddick: 
https://www.igwefirm.com/the-eric-riddick-case
https://www.nbcnews.com/news/us-news/eric-riddick-imprisoned-murder-he-says-he-didn-t-commit-n1269019
https://www.inquirer.com/news/philadelphia-eric-riddick-released-from-prison-after-no-contest-plea-20210528.html
https://whyy.org/articles/philly-man-released-from-prison-after-serving-nearly-30-years-for-murder/
https://www.phillytrib.com/news/city-councilman-pushes-governor-to-release-eric-riddick/article_a6a1635c-aaa6-52f3-a39e-6bcc6c3008d8.html
https://www.inquirer.com/philly/news/crime/eric-riddick-1991-shooting-death-appeal-window-superior-court-decision-20180223.html
https://apnews.com/article/6fd1ce50c6c84c53a944033f9fd7cb03
About Making an Exoneree: 
Making an Exoneree is a Georgetown undergraduate course taught each spring by professors Marc Howard and Marty Tankleff, who is an exoneree himself. In small groups, students delve into the stories of incarcerated individuals with strong cases for exoneration or release. In 2018, a group of students were instrumental in exonerating Valentino Dixon, who had been wrongfully incarcerated for over 28 years. Visit the Making an Exoneree website here.
Contact: 
Evelyn Rupert
Director of Communications
Georgetown Prisons and Justice Initiative
er850@georgetown.edu