Tray Jones Comes Home After 37 Years
Posted in News | Tagged Making an Exoneree
Sentenced to life in 1985 when he was just 16 years old, Arlando "Tray" Jones III walked out of prison on July 29, 2022, two days after his 54th birthday. It had been more than 37 years since he had last been free.
After a July 28 hearing in which the prosecution supported Jones' motion for resentencing and release, Baltimore Judge Charles Blomquist agreed to reduce Jones' sentence to time served. The judge praised Jones for his educational achievements, demonstrated rehabilitation, and commitment to helping others, stating that Jones clearly met the terms of Maryland's Juvenile Restoration Act of 2021.
A light rain fell as Jones stepped outside. He was beaming.
"You can't describe this feeling," Jones said. "No one can feel as good as I feel right now."
A Dedicated Scholar
While incarcerated at the Jessup Correctional Institution (JCI), Jones participated in several courses taught by Prisons and Justice Initiative Director Marc Howard, including the inaugural Prison Reform Project course in 2016. In that class, which was featured as the cover story of the Washington Post Magazine, Jones and other men incarcerated in Jessup worked closely with 15 Georgetown students to explore and develop proposals for prison reform. A dedicated and insightful student, Jones led the class through thoughtful and difficult discussions.
Jones and Howard maintained a close friendship for many years, and Jones was a regular guest speaker in Howard's classes by phone from prison. For Howard, who testified on Jones' behalf at the Baltimore hearing, Jones is both a scholar and a natural leader.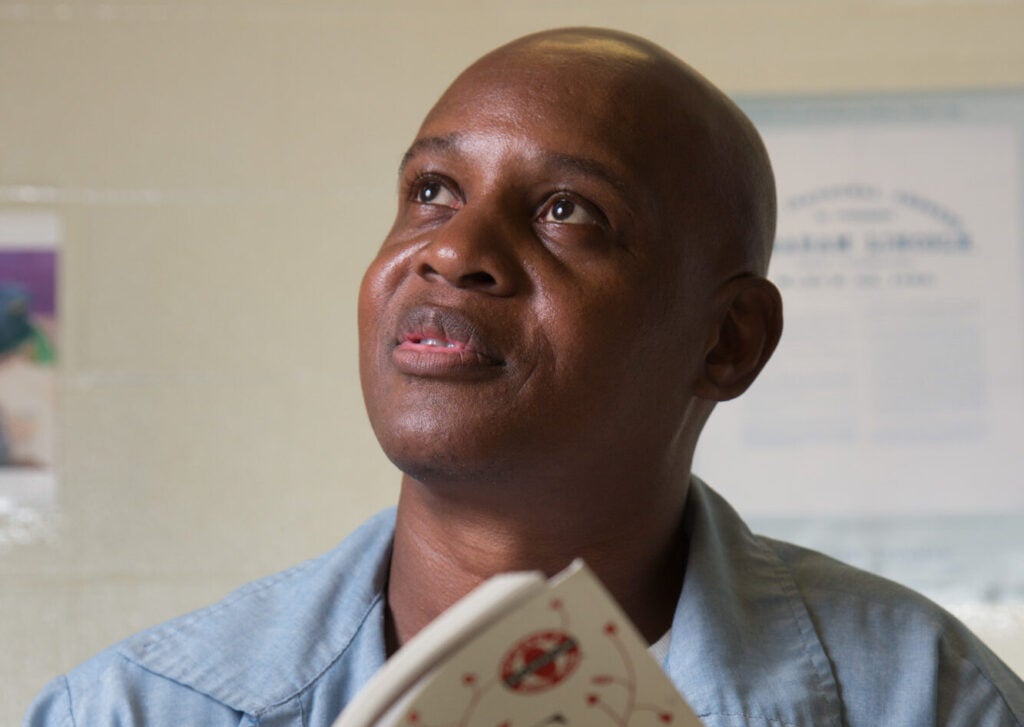 "Based on our sustained interactions for nearly eight years, I cannot possibly overstate the extent to which Mr. Jones has been a model student and an absolute pleasure to have in my classes," Howard wrote in his letter to support Jones' release. "Not only did he always complete the assigned readings and come to class prepared, but he was without question the most intellectually curious and engaging student I've ever had (whether behind bars or at Georgetown). I lost count of how many guest speakers walked away from their interactions at JCI and remarked about Mr. Jones' intellect, knowledge, and desire to learn and grow."
Among the group of family and friends gathered at the courthouse to support Jones and at the prison to welcome him home were the Georgetown faculty and alumni who advocated for his freedom. Having already touched the lives of many Georgetown community members as a thoughtful classmate and powerful speaker, Jones also became the subject of a student-led investigation through the Making an Exoneree course in 2021. 
Students Michelle Dubovitsky, Cynthia Garcia, and Frances Trousdale spent the semester delving into Jones's original case and conviction. After months of research and interviews, they were convinced that Jones had been wrongfully convicted, and they created a short documentary, a website, social media accounts, and an online petition in support of his release.
Making an Exoneree
While Jones has openly acknowledged his history and past mistakes as a child swept up in an ecosystem of drugs and violence in East Baltimore, he has always maintained that he did not commit the crime that sent him to prison nearly four decades ago.
For Trousdale, to see Jones outside of prison walls was a moment of elation but also heartbreak that he had waited over 13,500 days to walk free.
"I was overwhelmed by emotion. The toll of this time taken is simply immeasurable," Trousdale said. "But for Tray, this time hasn't passed him by – he has gained a college degree, published two books, and mastered thousands of pages of ancient philosophy. There is not a doubt in my mind that society will be better off because Tray is re-entering it. And for that, I couldn't be happier."
Homecoming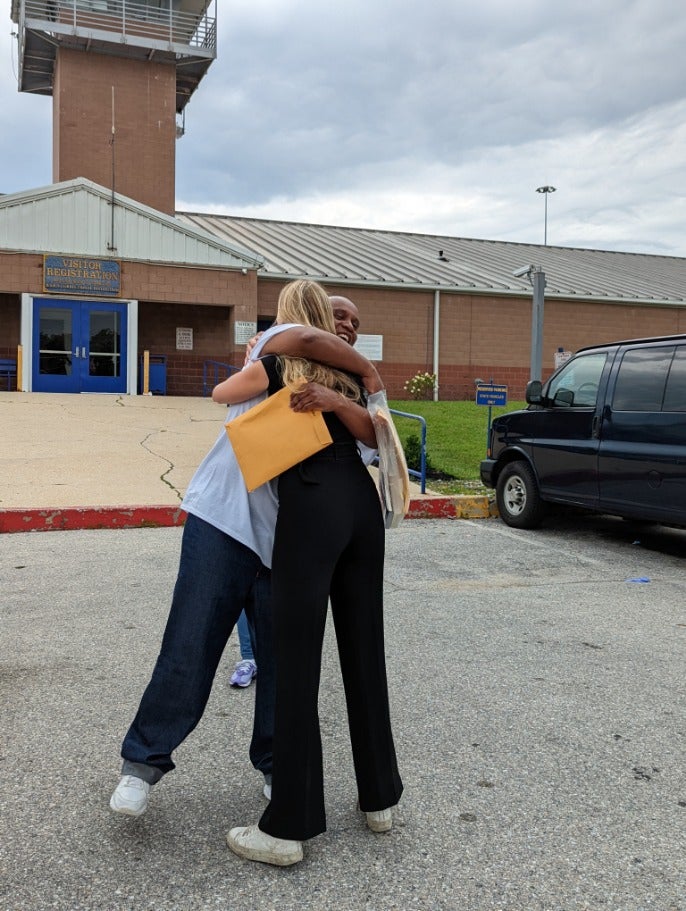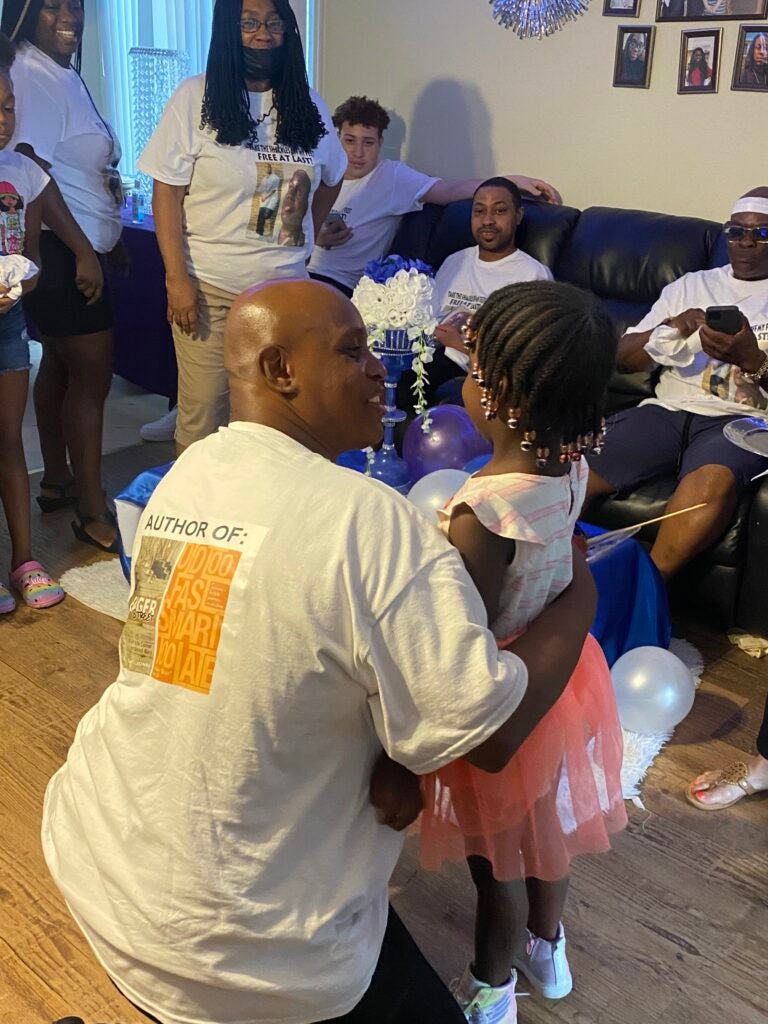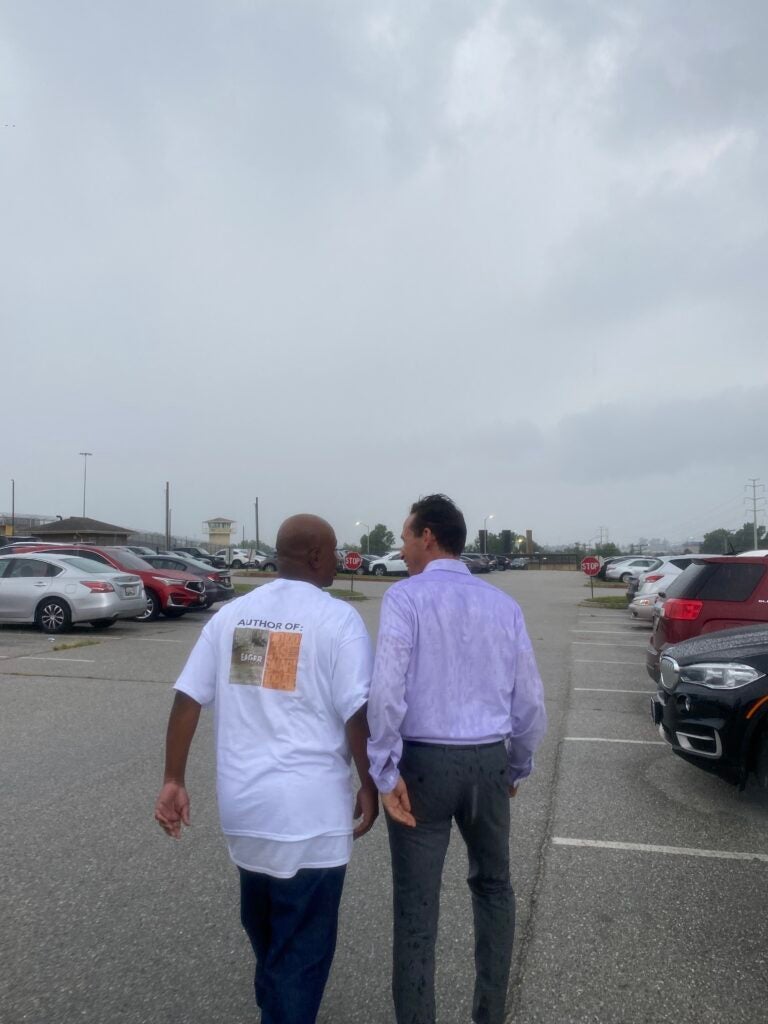 Jones's homecoming was ultimately distinct from his innocence claims. His post-sentencing lawyer Erica Suter (LAW '03) who directs the University of Baltimore's Innocence Project Clinic, filed a motion under Maryland's 2021 Juvenile Restoration Act, which allows people who were minors at the time of an offense to seek a sentence reduction after serving 20 years.
At the hearing on July 28, prosecutors supported Suter's motion. She expressed gratitude that the courts recognized Tray's humanity and great potential.
"Tray is an extraordinary human being and it was a privilege for the UB Innocence Project Clinic to represent him," Suter said. "We are grateful to the Sentencing Review Unit of the Baltimore State's Attorney's Office for recognizing Tray's humanity and supporting his release and to the Court for granting relief. I cannot wait to see what Tray's future holds."
Howard noted that Jones now finally has a chance to share his talents and gifts with his community outside of prison walls.
"Tray is a man of tremendous compassion, dedication, and integrity. Whatever Tray does, he's going to leave a mark on people because everyone he comes into contact with is struck by him, by his intellect, by how much he has to offer," said Howard, who co-teaches the Making an Exoneree course through the Georgetown College of Arts & Sciences. "I am absolutely certain that he will make me and others proud to have supported him and believed in him."
Jones knows that the road ahead will not be without challenges, but he is excited and ready to face this new chapter.
"I always think about the term zeitgeist, you know, the spirit of the time," Jones said. "I have to make adjustments to the changing times, and I imagine there's going to be some challenges. And I have to be prepared to navigate them."