DC and Georgetown Relaunch Paralegal Program for Returning Citizens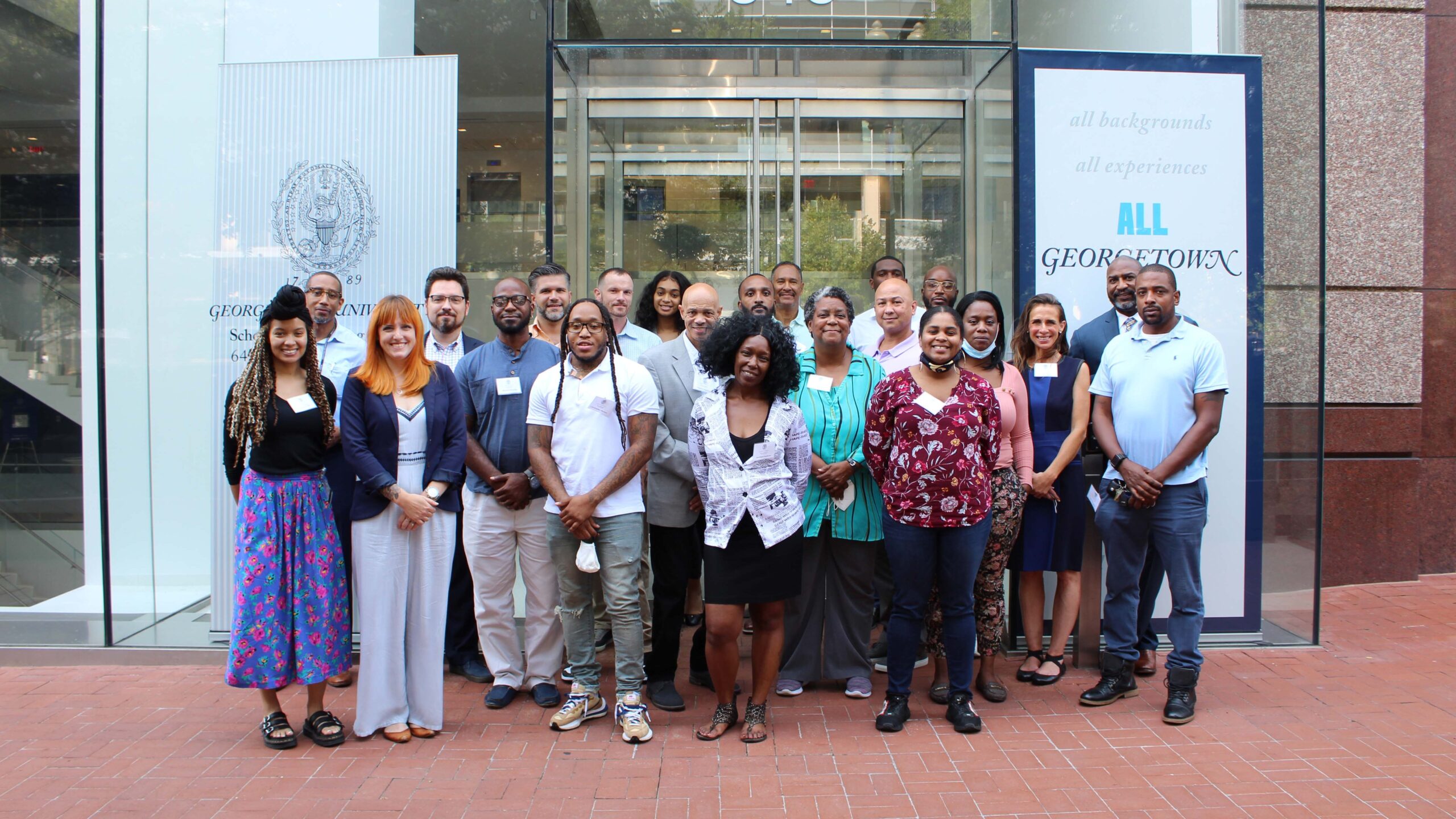 A unique program that prepares formerly incarcerated people for careers as paralegals welcomed a new class of students to Georgetown University on Sept. 13 for their first day of class.
Through the MORCA-Georgetown Paralegal Program, students gain extensive professional training and work experience to launch and advance careers in the field of law. The program is a partnership between the D.C. Mayor's Office on Returning Citizen Affairs (MORCA), the D.C. Department of Employment Services (DOES), and Georgetown University.
The program creates an important opportunity for formerly incarcerated people, or returning citizens, to build rewarding careers and contribute their talents to D.C. law firms and other employers. Many of this year's 14 students entered the program with their own professional backgrounds and self-taught knowledge of the law. The program recognizes the value of these experiences and leverages them as a foundation for continued career advancement.
"This program affords returning citizens the opportunity to build upon their skill sets and learn from leaders in the field," said MORCA Director Lamont Carey. "These students are talented, motivated, and they are more than capable of succeeding and thriving in any industry."
MORCA-Georgetown Paralegal Fellows complete 16 weeks of in-person academic coursework to earn a certificate in paralegal studies from Georgetown's School of Continuing Studies (SCS). The curriculum comprises 12 courses on topics including legal research and writing, contracts, litigation, ethics, as well as topics in trademark law, immigration, criminal law, and torts. Students receive a stipend while attending classes full time Monday through Friday.
"We at SCS are proud to continue our partnership with MORCA," said Dean Kelly Otter. "The Fellows bring invaluable knowledge and experiences that will empower them to have impactful careers, and their stories are inspiring to so many. We are excited to welcome them to Georgetown, especially to our re-opened SCS building."
Building careers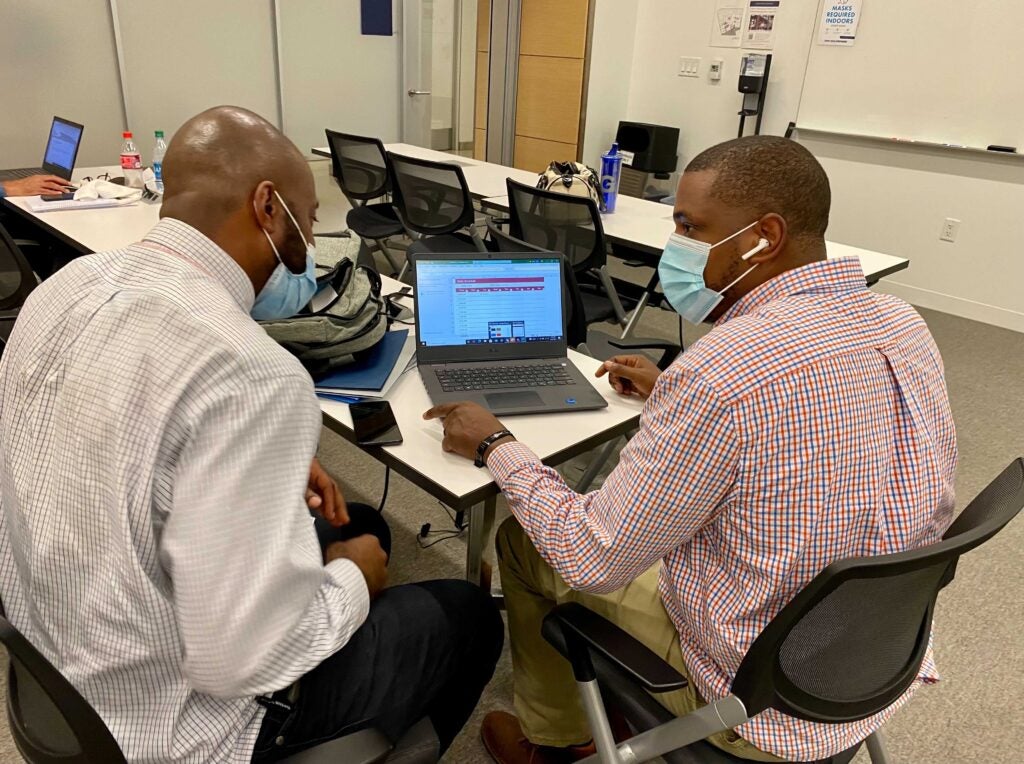 Following their graduation in December from the academic portion of the program, participants will interview and be matched with one-year paid fellowship positions at law firms, nonprofits, and government agencies. During their fellowships, they will gain hands-on work experience and build their own professional networks.
"Graduates of the program will leverage their education and training to access employment with competitive salaries, benefits, and a clear path to the middle class," said DOES Director Unique Morris-Hughes. "This is also a great opportunity for their employers, who will gain qualified, dependable professionals with a unique and valuable perspective."
Marcus Dantley said that the program represented an opportunity for growth and a chance to build a career he's proud of.
"What I wanted for myself was financial stability and mental stimulation. And this program is providing both," Dantley said. "I'm showing up each day to class and learning, and it gives me confidence going forward to the next set of obstacles. I feel like I have the tools, I have the support system, and I have it within myself."
The new class of students is the program's second. Nine students graduated in the first 2018-2019 cohort; most were hired in permanent positions after their initial one-year fellowships concluded. Five alumni returned to the program as mentors for the new class and will provide guidance and support based on their own experience in the program and as professional paralegals.
Alumnus Eric Spencer returned to the program to be a resource for Fellows as they tackle the challenging coursework while also navigating other reentry challenges. Spencer is a paralegal for the Maryland Attorney General's Office and said the program gave him the structure and skills to take his legal work to a new professional level.
"My experience in the program was humbling and fulfilling. It was a privilege as a returning citizen to attend Georgetown University," he said. "My professors were hands on and had high expectations, and the program prepared me for the fast pace of my current role."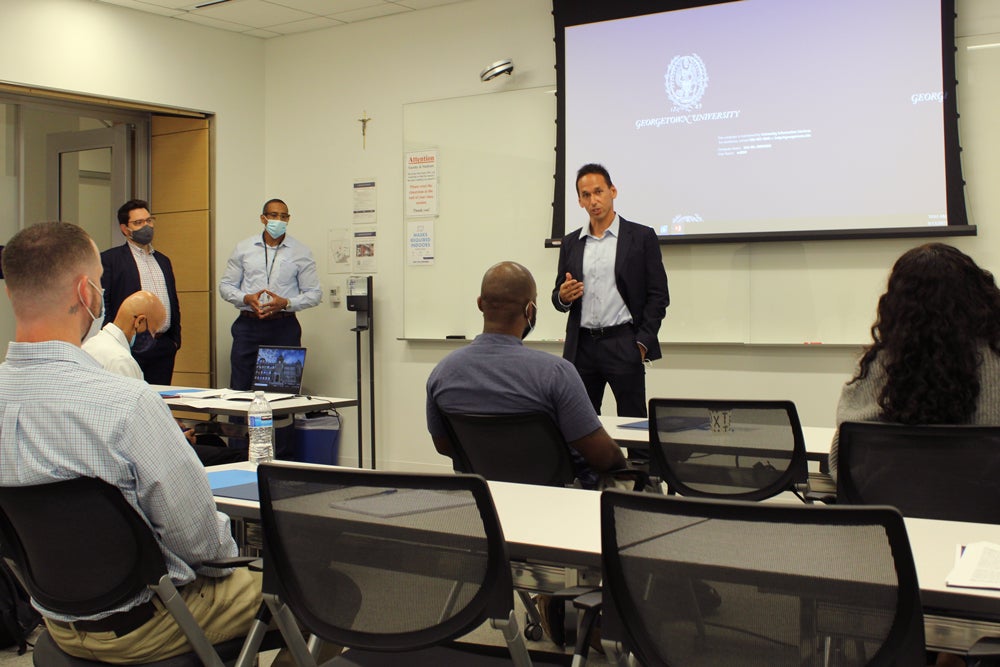 Overcoming barriers
Returning citizens face daunting challenges to finding employment, including gaps in resumes, lack of other educational or professional opportunities, and the lasting stigma of incarceration. These barriers can further hinder the reentry process and prevent them from becoming financially secure, finding stable housing, and meeting other basic necessities.
Initiatives like the MORCA-Georgetown Paralegal Program and Georgetown's Pivot Program create a means for returning citizens to overcome these hurdles and build fulfilling careers.
"Reentry programs that combine Georgetown academics and professional development open doors for our students," said Marc Howard, director of the Georgetown Prisons and Justice Initiative. "They also create change within the business community, encouraging employers to expand their own second-chance hiring practices."
---
The MORCA-Georgetown Paralegal Program is supported by the Mayor's Office on Returning Citizen Affairs (MORCA) and the Department of Employment Services (DOES). Georgetown's School of Continuing Studies provides the academic coursework, and the Georgetown Prisons and Justice Initiative organizes and implements the program.
For more information, visit: https://prisonsandjustice.georgetown.edu/programs/paralegal/
About MORCA:
MORCA serves as the District's coordinating and advisory agency on issues related to returning citizens. It connects formerly incarcerated D.C. residents with resources, housing, and opportunities for education and training. MORCA aims to empower returning citizens and reduce recidivism.
About DOES:
DOES connects job seekers in the District with resources, information, and opportunities. The Division of State Initiatives works with government, nonprofit, and private sector partners to offer specialized services for incarcerated and formerly incarcerated residents.
About the School of Continuing Studies:
Georgetown University's School of Continuing Studies offers graduate programs in professional and liberal studies, more than 30 professional certificate programs, custom and corporate training and education, summer school and special programs, as well as the University's only part-time bachelor's program. In particular, SCS has offered a paralegal studies certificate program for more than 30 years.
About the Prisons and Justice Initiative:
The Georgetown University Prisons and Justice Initiative (PJI) offers transformative education for incarcerated and formerly incarcerated students, including through the Prison Scholars Program and the Pivot Program.