Prison Scholar Joel Caston Elected to Local Government
Georgetown Prison Scholar Joel Caston is a longtime mentor, instructor, and leader at the D.C. Jail. Now, he'll also represent the jail's residents and neighbors as their local elected official.
Caston was elected on June 15 to fill a vacant Advisory Neighborhood Commission (ANC) seat in Ward 7. He will be the first incarcerated person to hold public office in the District. 
"I'm incredibly proud of Joel for his election," said Georgetown Prisons and Justice Initiative Director Marc Howard, who has taught Caston in several courses. "Joel is brilliant, dedicated, compassionate and full of integrity. He will be an outstanding commissioner and representative for his constituents."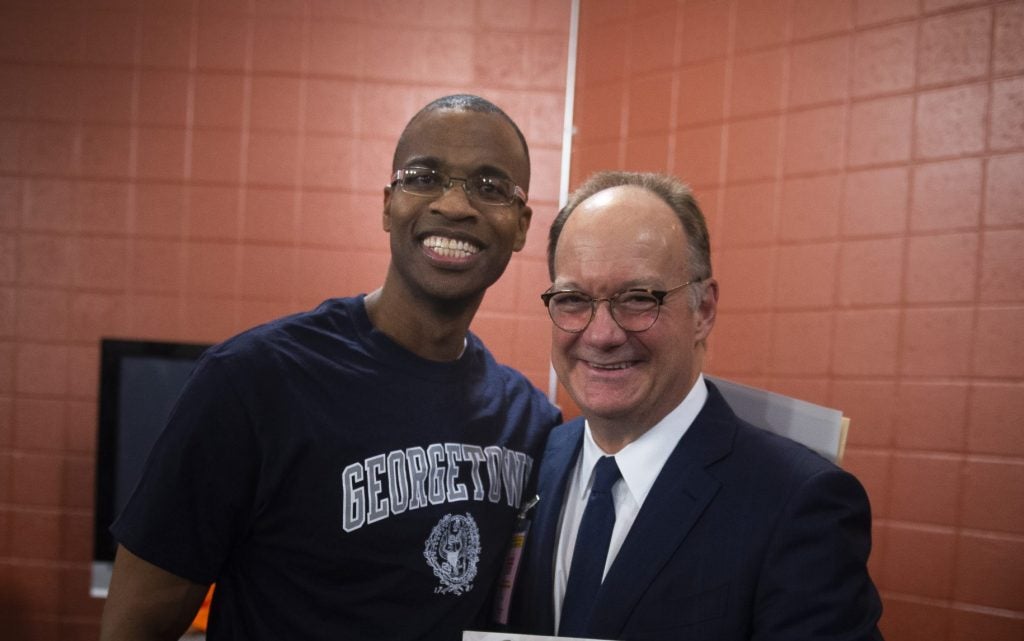 Caston, 44, has been taking for-credit classes through the Prison Scholars Program for several years. He also helps lead the Young Men Emerging mentorship program at the D.C Jail,  serves as editor of a newspaper for jail residents, practices yoga, speaks multiple languages, and is a published author. 
With support from local organizations including Neighbors for Justice, Caston ran for the ANC seat in 2020 unopposed, but was disqualified because his voter registration didn't reflect his address at the jail. This year, four other jail residents also ran for the seat. The district, ANC 7F07, encompasses the jail, the Harriet Tubman Women's Shelter and a new apartment complex in Southeast D.C.
In a campaign video shared by D.C. corrections staff before the election, Caston pledged to represent his constituents both inside and outside the jail.
"My platform will be used to restore the dignity of incarcerated people, that we will no longer be judged by our worst mistake and to establish equality for both the male and the female populations," he said. "I will be your biggest advocate to make sure your voice and your concerns are heard."
Caston has been incarcerated for 26 years — since he was just 18. He is set to come home sometime this year. 
"He's an inspiration to everyone who is lucky enough to know him," Howard said. "And I'm counting down the days until he comes home, a free man, to share his talent and positivity with the world."