Seizing Opportunity With Raymond Dodd
Posted in News | Tagged Prison Scholars
Two years after his release, Prison Scholars alum Raymond (Ray) Dodd discusses how he is turning his advocacy dreams into a reality.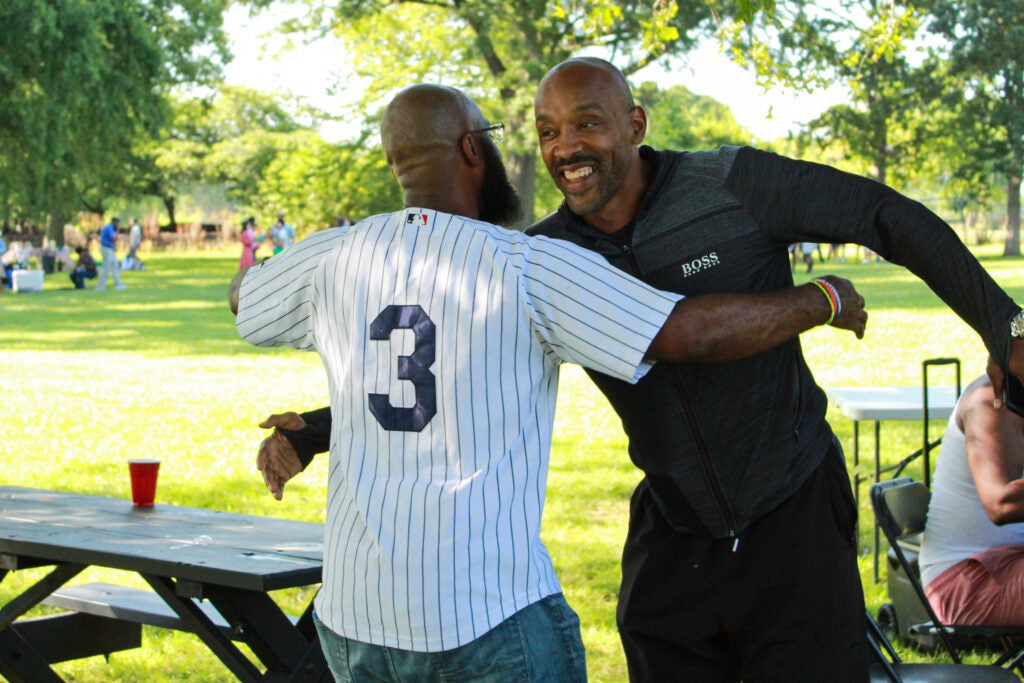 Raymond Dodd is busy.
As a paralegal at the Washington Lawyers Committee, a published author, a notary, the founder of a nonprofit, and a social and economic justice mentor and advocate, Ray's days are packed from morning to night. And he is nowhere near slowing down.
Ray, 47, grew up in Washington, D.C. and spent 25 years incarcerated for crimes he was convicted of as a juvenile. Throughout those years, he dreamed of one day advocating for those whose freedoms and civil rights are hindered by the U.S. criminal legal system. After returning home in July 2020, he has been turning those dreams into a reality.
"The joy for me is truly just waking up every morning and having the freedom to do anything," Ray said. "Even my worst days out here are better than my best days in there. So I do a lot of advocacy work and mentorship. What drives me is always wanting to do something new, helping someone and offering advice, hearing stories, and just trying to build."
With the Washington Lawyer's Committee, Ray is working on equity issues including discrimination in housing, education, employment, disability, as well as criminal justice reform. The nonprofit he founded, Clusivity Justice Initiative, also addresses the barriers and injustices returning citizens often face when searching for housing and employment. Through this work, Ray aims to affect the laws and policies that contribute to mass incarceration.
"For the most part, the work is rooted in trying to help someone that's going through unfortunate circumstances and their civil rights are being violated," he said.
Ray was working to improve his own circumstances and those of his community long before he was freed. Prior to his release, he litigated civil, administrative, and criminal claims in D.C., Maryland, and federal courts.
In 2019 Ray began taking both non-credit bearing and credit-bearing courses at Georgetown through the Prison and Justice Initiative's Prison Scholars Program at the D.C. Jail.
For Ray, the Prison Scholars Program was an opportunity to learn from the experiences and perspectives of all of those coming together to pursue higher education. He said the friendships and connections he made in the program contributed greatly to the success he has had upon release.
"I really embraced the fact that the program opened my eyes to not only different perspectives, but also the fact that anything is possible if you do it," he said.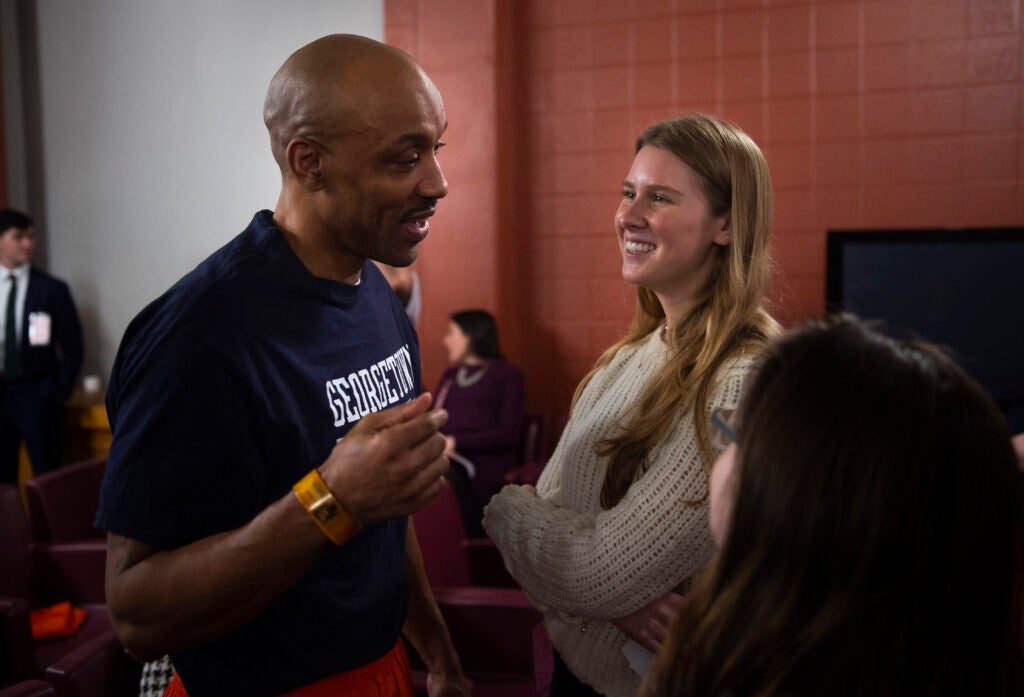 Ray also participated in PJI Director Marc Howard's Prisons and Punishment course, which brings together incarcerated Scholars and students from Georgetown's Main Campus. He felt that this course model encouraged both inside and outside students to grow through their shared experience.
"I enjoyed the way the program is set up with having outside students mingle and participate with inside students," Ray said. "It pushes you and gives you a sense of responsibility to give your best so that you're not only receiving, but you're also giving."
When Kim Kardashian and producers were visiting the D.C. Jail to film "The Justice Project," a documentary series about mass incarceration in the United States, Ray stood up to give a speech on the combined years he and his fellow classmates with the Prison Scholars Program had spent incarcerated. The speech was included in the documentary, and the experience inspired Ray to continue to elevate the voices of those personally affected by the criminal legal system.
"You need to bring the affected people that are having lived experiences to the table to not only participate, but to also strategize and represent in leadership," Ray said. "That made me get into the social justice mindset of being an advocate for people who lived experiences such as mine, and represent them in a way that was authentic. All of these things were happening, which made me get into that mindset that the representation needed to be there."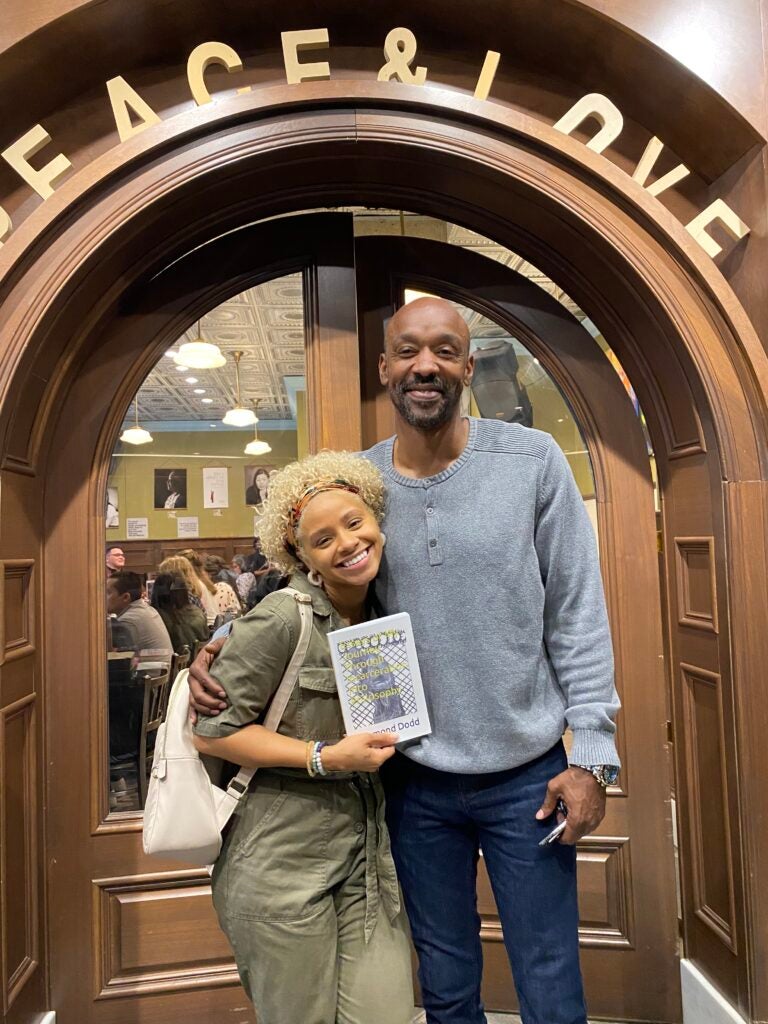 To share his own experiences with the criminal legal system, Ray published a book in November 2021 that he had started while still incarcerated. The book, titled Essays of My Journey Through Incarceration Into Philosophy, was inspired in part by lessons he gained in a philosophy class taught by Georgetown Professor Judith Lichtenberg. He recently showcased the book at a June Insight on the Inside event at D.C. bookstore Busboys and Poets.
Scholar. Author. Mentor. Advocate. Despite the many roles he has already taken on, Ray finds new ways to give back, even adding runway modeling to his resume as he participates in the fifth annual Runway for a Cure DC event to raise support for breast cancer awareness and research.
Ultimately, Ray has learned to seize any opportunity he is presented with to keep moving forward and support his community.
"I didn't expect to be or do some of the things that I've done," Ray said. "And when I got into the Georgetown program, and those opportunities presented themselves, I realized that if you act on opportunity, sometimes you get results that are beyond what your wildest imaginations may be."