Prison Scholars Celebrate End of Fall Semester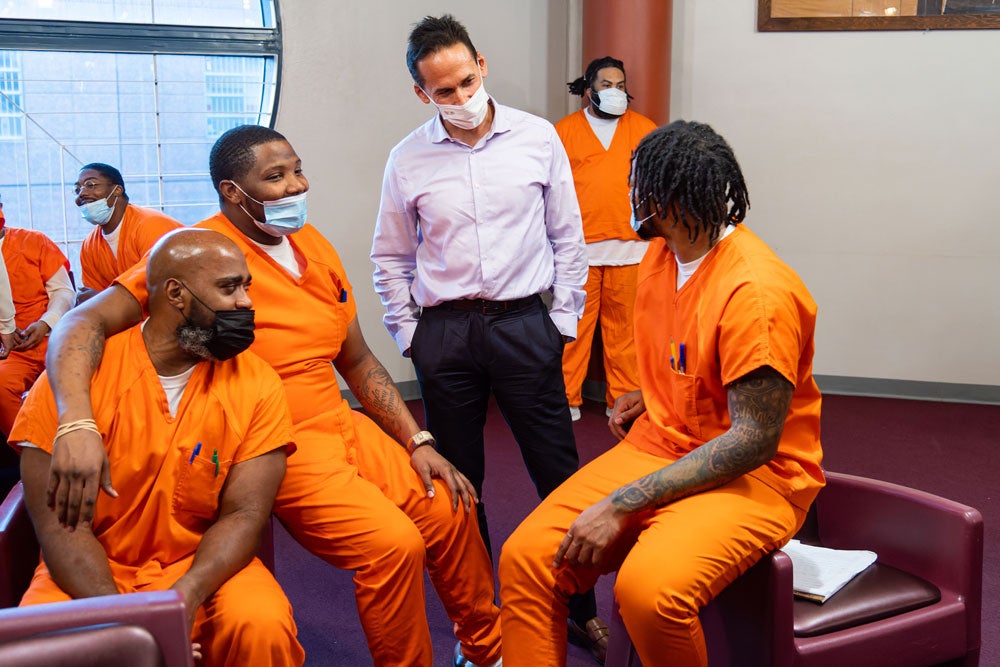 Georgetown's most recent class of Prison Scholars celebrated their achievements and marked the end of the fall 2021 semester with a ceremony at the D.C. Jail on Dec. 14. 
Prisons and Justice Initiative and Department of Corrections staff, faculty, and students gathered in the jail's chapel to share a meal, distribute certificates, and recognize the 17 incarcerated Scholars who earned Georgetown credits this semester. 
For many of the Scholars, the moment represented much more than just passing this semester's classes. Participating in the program creates an ongoing process of transformation through building self-confidence and self-efficacy.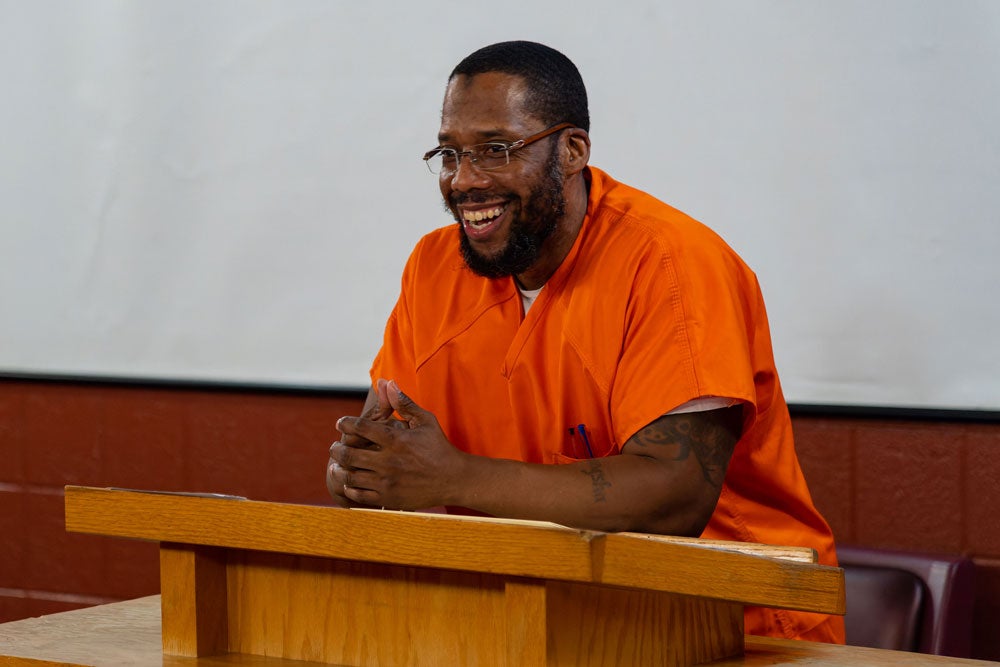 "Being in this type of environment provided an opportunity to learn," said Scholar Colie Long. "You get a sense of empowerment that can never be taken away from you."
Over the fall semester, the Georgetown Prison Scholars Program offered three for-credit courses in writing and literature, personal finance, and criminal justice. It was the first semester back in person since March 2020, when the entire program shifted to virtual learning through tablets. 
About half of the Scholars gained a new group of classmates as well: In Marc Howard's Prisons and Punishment course, Georgetown undergraduate students joined the Scholars every week for class at the jail in a credit-bearing "inside-outside" course that's unique nationwide. They completed the same assignments and earned the same three credits for their work.
Scholar Cordell Miller said his experience in the program, and particularly in Howard's class, showed him just how capable he is of succeeding in an academic setting he never imagined himself in.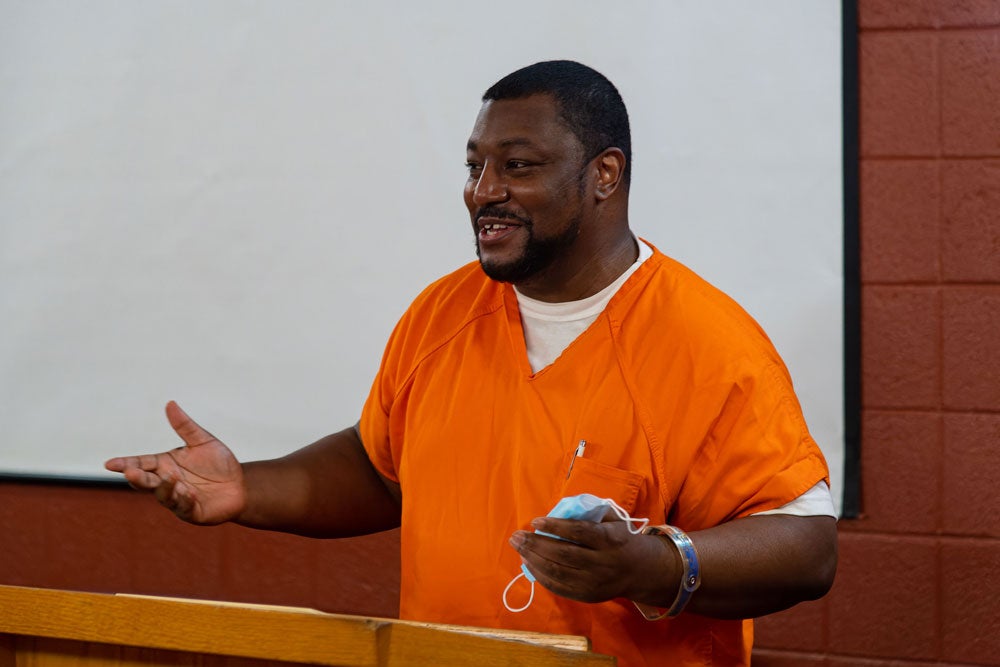 "I thought my level of intelligence was far below a Georgetown student until I met a Georgetown student, I was amongst Georgetown students, I became a Georgetown student," Miller said. 
Scholar Xavier Lee said that with the rest of society so quick to discount incarcerated people, it becomes easy to doubt oneself. For him, taking for-credit classes at an institution like Georgetown is a way of pushing back against that narrative.
"Being in these courses allows me to demonstrate that I'm worthy, even if it is to no one but the professor. It allows you to prove it to yourself," Lee said.
PJI Director of Reentry Services Tyrone Walker, who was one of the first people to take Georgetown classes at the jail when the program launched in 2018, encouraged the students to keep pushing the boundaries of what they thought was possible.
"Most of us come from communities where we've never seen people do the things you're doing," he told the Scholars in his keynote address. "We want to see you thrive not just in your current community but in your community when you come back home."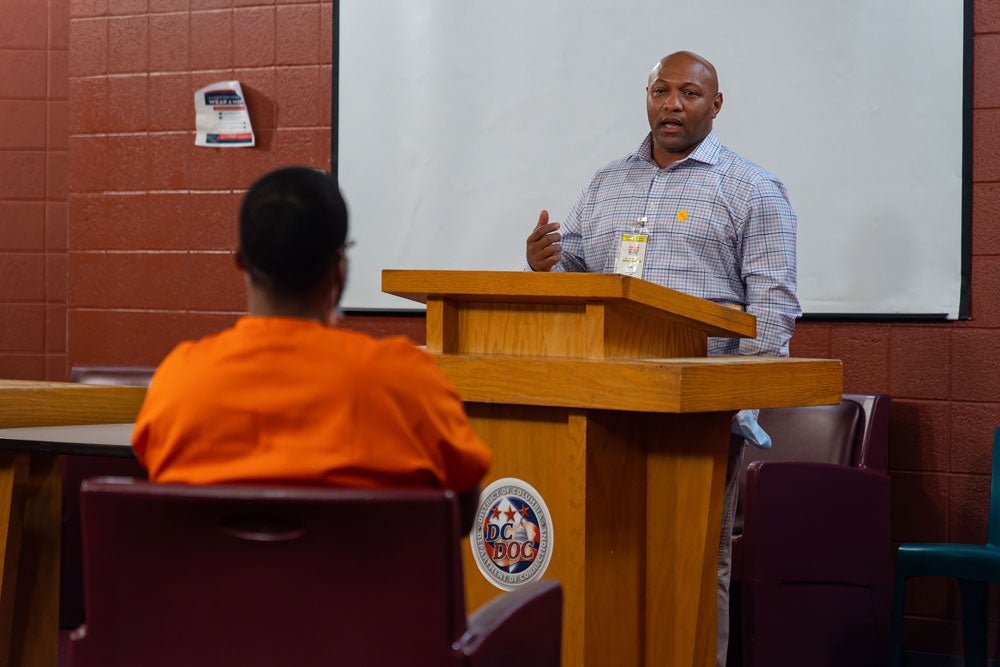 Staff and faculty thanked the students for the time and effort they put into their coursework despite the significant hardships and stress of being incarcerated amid the COVID-19 pandemic. 
"It's hard to find hope, and it's hard to find optimism, but you still bring it every single day in these classes, and that inspires us and drives us," said Howard. 
The current Prison Scholars – and new students – will have a chance to continue their education in the spring 2022 semester with more Georgetown courses including biology, theology, and criminal justice. Walker urged them to stay curious, keep asking questions, and bring ideas forward as they continue their education next semester and beyond.
"I'd like to see each and every student embrace that fire and be a lifelong learner," he said. "Continue to be a better version of yourself with every paragraph you read, every paragraph you write."