Prison Scholar Keonte Lewis Sets Sights on College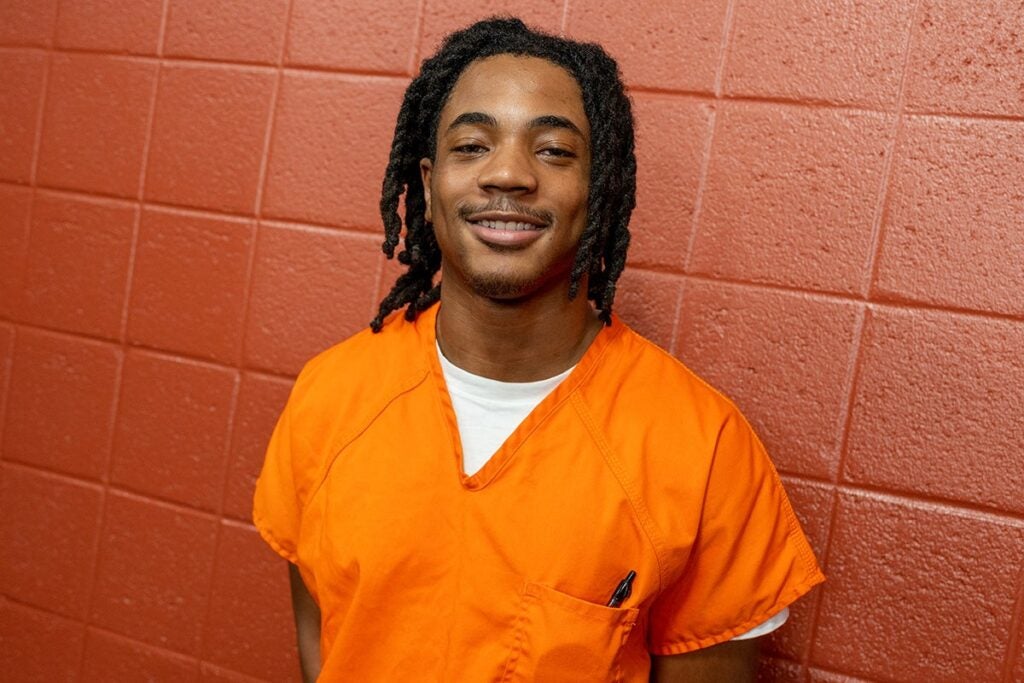 When Keonte Lewis used his one phone call to let his dad know he was being booked into the D.C. Jail, he could hear the disappointment in his voice. 
"I wanted to make sure that that was the last time my father felt like that," Lewis recalled.
The conversation sparked Lewis's drive to put himself on a different trajectory. During another phone call just a year later, Lewis and his dad had a very different conversation. "I'm proud of you," his father said. And he had reason to be: Two days after their call, Lewis was set to be acknowledged for completing his first semester of college courses through the Georgetown University Prison Scholars program.
In the year between those two phone calls, Lewis had earned his GED, joined the Young Men Emerging mentorship program, completed college readiness classes, and taken nearly every course Georgetown had to offer during the spring semester. He ended up earning 10 credits from Georgetown and – at 20 years old – was the youngest in his class of nearly 30 other Scholars.
"It was really special for me because I was not as welcoming to the idea of going to college," he said at a celebration marking the end of the academic year. "I'm very grateful and honored to have had the opportunity to participate in this program."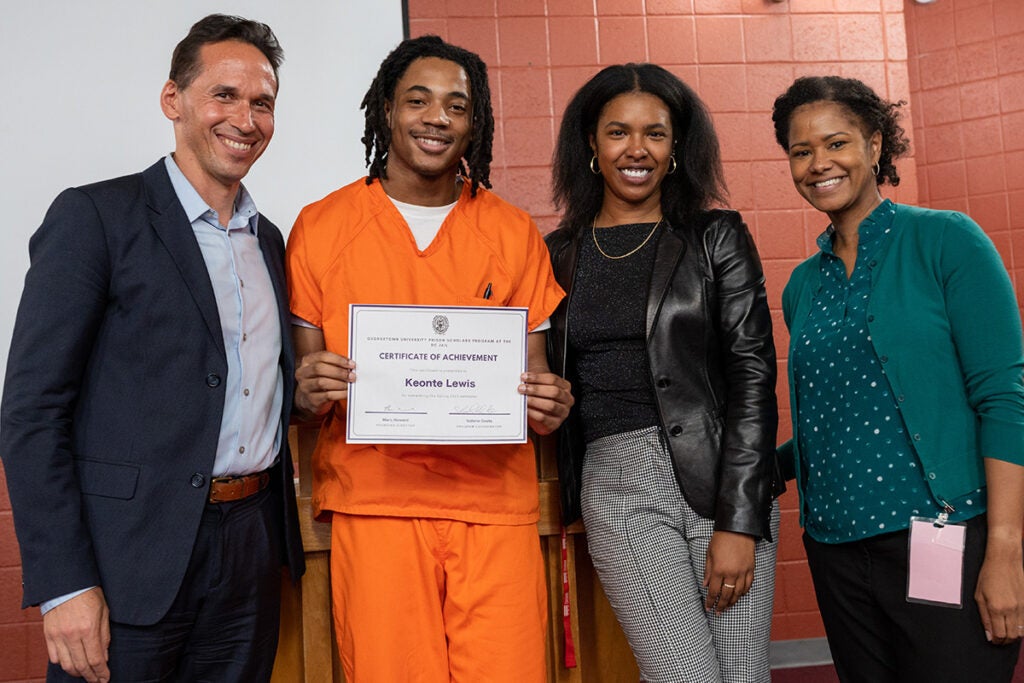 Lewis had never before had the chance to envision himself as a college student. Committing himself to his education was "a complete 180" from the path he had been on, which was marked by fraught relationships with his family and addiction to drugs. 
"I realized I didn't want to be in and out of jail," he said. "I wanted to do something that's meaningful for me."
Lewis found meaning in the classroom, and his curiosity and engagement uplifted everyone around him and elevated class conversations. 
"Keonte is full of enthusiasm for learning. He is ambitious, hardworking, and always strives to grow and improve. It was a joy to have him in my class," said Genevieve Hayman, who taught a three-credit Philosophy of Critical Thinking course. "His passion for education motivates everyone in the room." 
In addition to Hayman's class, Lewis also completed credit-bearing courses in sociology, history, and criminal justice, as well as a non-credit personal finance class. Lewis has his sights set on pursuing a career in clinical psychology, motivated in part by his own family's experience with mental illness and mental health challenges.
The Prison Scholars program also created connections and fostered learning that went beyond the D.C. Jail. Lewis and other Scholars had the chance to collaborate with Georgetown undergraduates from the university's main campus through a unique class that brings "inside" and "outside" students together to study the criminal legal system and mass incarceration. 
Through Forgotten Humanity of Prisoners, a one-credit course taught by Prisons and Justice Initiative Director Marc Howard, Lewis learned and worked side by side with Georgetown students as his classmates. He shared his experience and perspective and learned from theirs, too.
"The most significant thing was that the students weren't distant," he said of the main campus students. "It was like, 'We see you outside of your uniform and your circumstances.'" 
The experience brought into sharper focus what his own future as a college student could look like. And he's already taking steps to make that future a reality. In the folder he carried with him to the Georgetown celebration, among the leftover papers collected throughout the semester, was a draft of a personal statement – part of his application to Howard University. 
Lewis created a major shift in his life within a short period of time thanks to opportunities for higher education, mentorship and community. By next year's spring semester, he hopes to be sitting in a college classroom as a free man.