Prison Scholars Return to the Classroom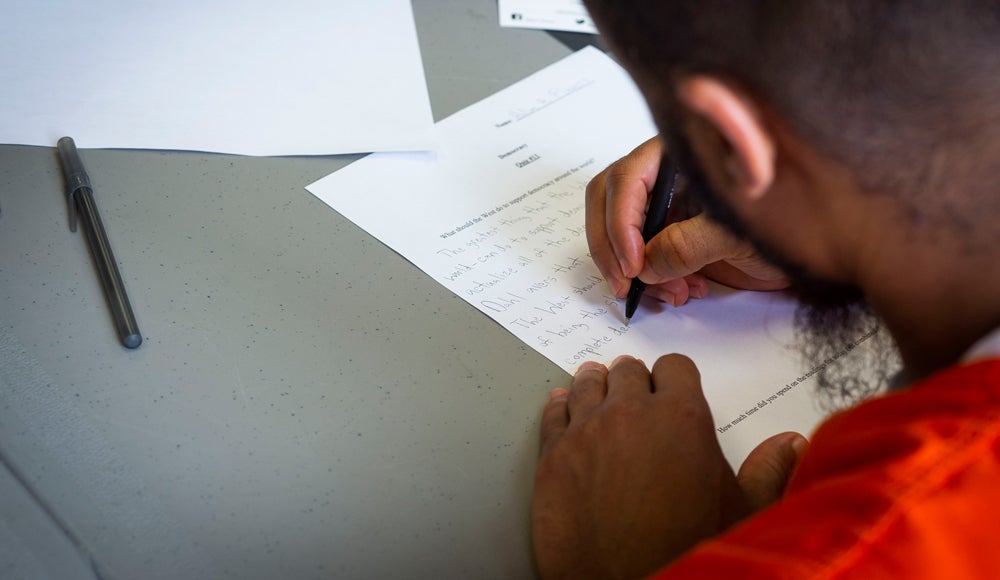 A group of Georgetown's Prison Scholars gathered at the D.C. Jail's library in early September to kick off the fall semester — and the first in-person class since the start of the COVID-19 pandemic. As they stopped to sign their names in a log book at the library entrance, they noticed that theirs were the first signatures since March 26, 2020.
"That was, for me, a powerful reminder of the toll that the pandemic has taken — on all of us, but especially on those who have been incarcerated," says Joe Napolitano, assistant director of education at the Prisons and Justice Initiative. "It will take some time to get back into the swing of things in person, but it was wonderful to be together."
Napolitano is teaching a three-credit writing seminar focused on literature of apartheid South Africa. Students will read from a selection of novels, nonfiction texts, and plays set during that era. The course is designed to engage them in the history of apartheid and also to develop their college-level writing skills.
"The students seemed open, hungry to learn, willing to study a subject and part of the world that many of them know very little about," Napolitano says. "Of course I also want to challenge them as well — to think harder and more deeply, to go further with their own writing and thinking than maybe they believe they are capable of."
For the past year and a half, students in the Prison Scholars program have been completing their courses virtually, with Georgetown faculty uploading lectures, course materials, and assignments that students accessed using tablets. 
Over the shortened summer semester, students took two three-credit classes: Introduction to Justice and Peace Studies, taught by Tarek Maassarani and Michael Loadenthal, and Language Myths, taught by Maya Barzilai.
Now, with COVID protocols in place and all students and faculty vaccinated, the program is back in person two days a week. In addition to Napolitano's class, the program is offering two other three-credit courses.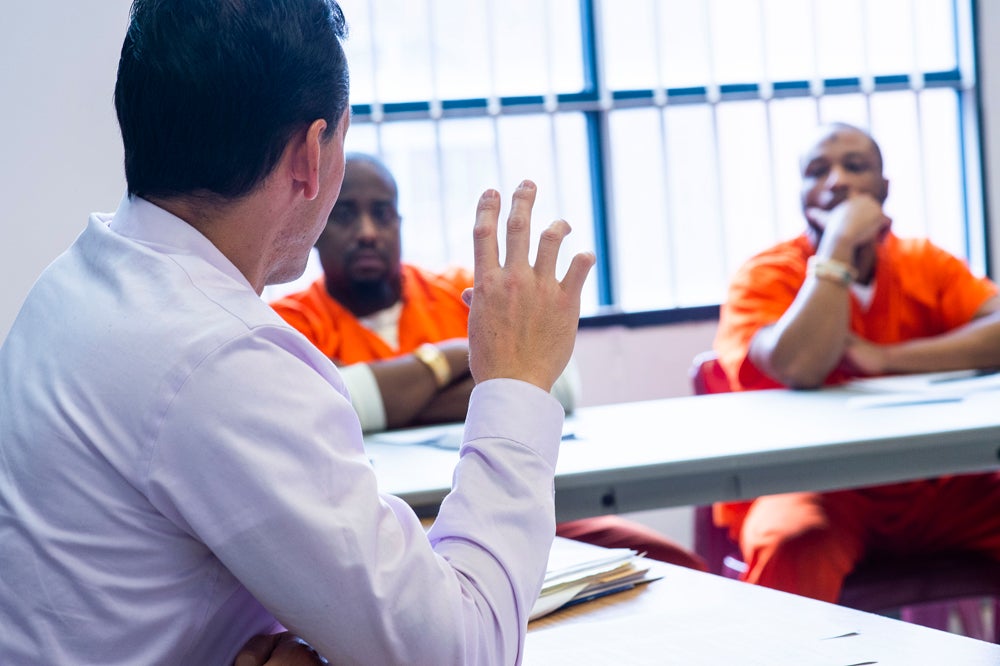 Tuesday afternoon, PJI Director Marc Howard kicked off his Prisons and Punishment course. In the course's unique "inside-outside" format, undergraduate students in the Capitol Applied Learning Labs program come to the jail for class meetings alongside their incarcerated peers. Together, the group studies the criminal justice and prison system in the United States. They'll explore why the United States is such an outlier among democratic countries in its incarceration rate and use of the death penalty, and they'll study the underlying issue of race in criminal justice.
"First and foremost, I hope that during our class sessions all of my students will momentarily forget their larger background and context, and that they will connect with each other as equals, on a human level," Howard says. "Having a fully mixed class like this is a unique experience, and I hope it is formative and life-changing for all of them."
The following day, Professor Mike Ryan introduced his students to a Personal Finance course. The course will delve into topics of money management, investing, budgeting, debt, stocks, and more. The course material is relevant to everyone, Ryan says, but particularly to incarcerated students who will soon return home.
"I hope that with the tools they learn in this class, they are able to put some time and energy into their personal finances when they're released," Ryan says. "For too many of us, we just let our personal finances happen to us, when we should take charge of our financial lives."
In addition to the credited classes, all the Scholars attend a weekly lecture series, which brings distinguished guests to speak with the students on a wide range of topics. 
The Prison Scholars Program has been operating at the D.C. Jail since 2018 and has offered 20 for-credit classes and 30 non-credit classes. Through these higher education opportunities, incarcerated learners gain valuable knowledge, skills, and confidence that they can carry with them after their release.