Facing Life in Prison at 17, I Got a Second Chance
Posted in Blogs | Tagged Paralegal Program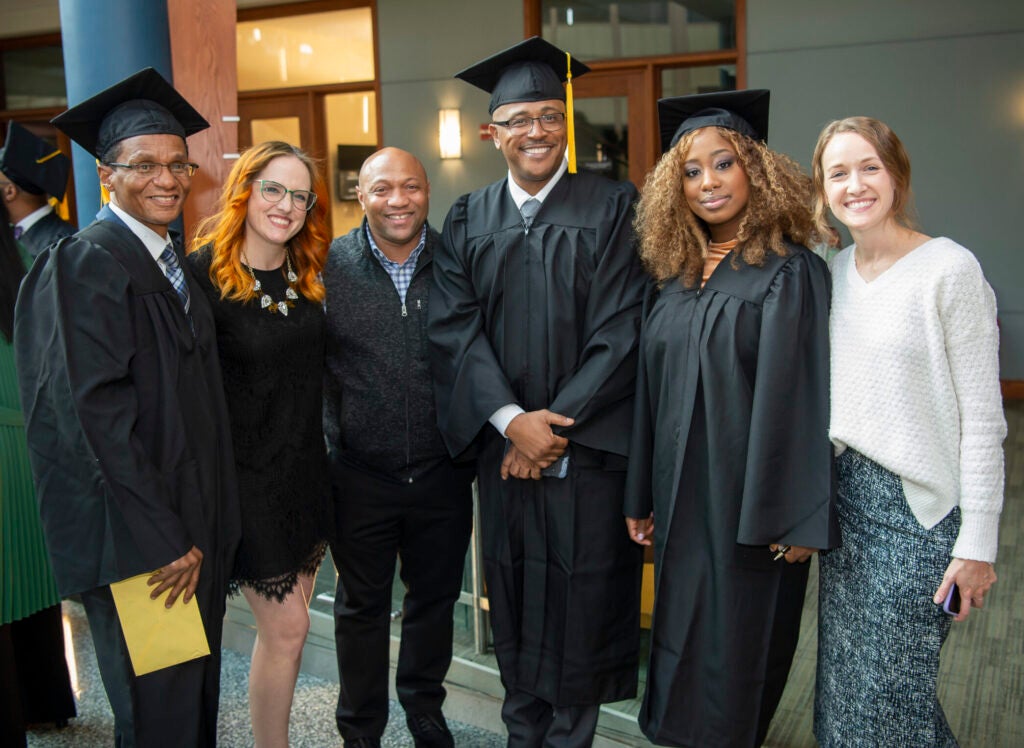 By Tyrone Walker, Director of Reentry Services
At age 19, I was tried, convicted and sentenced to 127 years and eight months to life for a crime I committed at just 17 years old. Like many young men who grew up in Washington, D.C. – and then had to do the rest of their growing up inside of the prison system – I wasn't sure I would ever get the second chance that so many people in free society take for granted.
I wasn't alone. Transferred to a federal prison in Cumberland, Md., I reconnected with Ronald Toms, a familiar face from home. Ronald was a few years older than me and serving two life sentences plus five years — on drug charges. Our lives had run parallel to each other's in D.C., but in prison our paths intersected in a way neither of us would have previously expected: through education.
Ronald and I were both born in D.C. and spent our childhood and teenage years in the thick of the crack cocaine epidemic and the "war" against the people caught up in it. As a young teenager, my life was already moving quickly out of my control – making fast money and driving fast cars. The chaos of the home and community I was born into ultimately led me down a destructive path.
As I spent over two decades incarcerated, I sometimes wondered whether many of us ever really had been given a first chance to end up anywhere besides prison. But inside the fences and barbed wire, Ronald and I both rediscovered a shared love of learning. He earned his GED, and I finished a certificate in business from Allegany College. Taking classes and studying while still facing the prospect of living the rest of our lives in prison, we felt hopeless at times. But education gave us a second chance at life – along with the hope and drive to fight for ourselves from the prison law library, hoping that one day we would get a second chance at freedom, too.
Despite the odds against us, those chances for Ronald and me arrived in unimaginable ways. After serving 25 years, Ronald was granted executive clemency by President Obama in 2017. I was released in 2018 after serving nearly 25 years through the D.C. Incarceration Reduction Amendment Act (IRAA), a key part of the Comprehensive Youth Amendment Act of 2016. Often referred to as a "second look" law, IRAA – which has since been expanded – created the opportunity for people convicted as juveniles or young adults to have their sentences reduced after serving 15 years.
Only about a year apart and through completely separate processes, Ronald and I were each given a second chance to be free men.
We continued educating ourselves on the outside. I graduated from the Georgetown University Pivot Program with a certificate in business and entrepreneurship in 2019. Not long after, Ronald earned his certificate in Paralegal Studies from Georgetown through the MORCA-Georgetown Paralegal Program. Twenty years after we reconnected over education while in prison, I got to see my friend walk across a graduation stage at Georgetown in a cap and gown.
Today, I get to support many other returning citizens like Ronald and myself as the Director of Reentry Services for the Georgetown Prisons and Justice Initiative. And Ronald is working as a paralegal at the D.C. Office of the Attorney General. Georgetown gave us each our first chance at having a stable and rewarding career, and we are both using that chance to support others coming behind us.
As we mark Second Chance Month this April, our stories are a reminder of the importance of taking concrete steps to embed second chances into this nation's criminal legal system. There are so many others like Ronald and me that have grown from the people they were when they were first incarcerated. But too few of them get the types of second chances that we both did.
Creating more opportunities for education while in prison, supporting reentry programming and inclusive employment, and expanding second look legislation across the country can offer the redemption that so many incarcerated people deserve and whose talents and leadership we're sorely missing in our communities.