Writing Our Way Out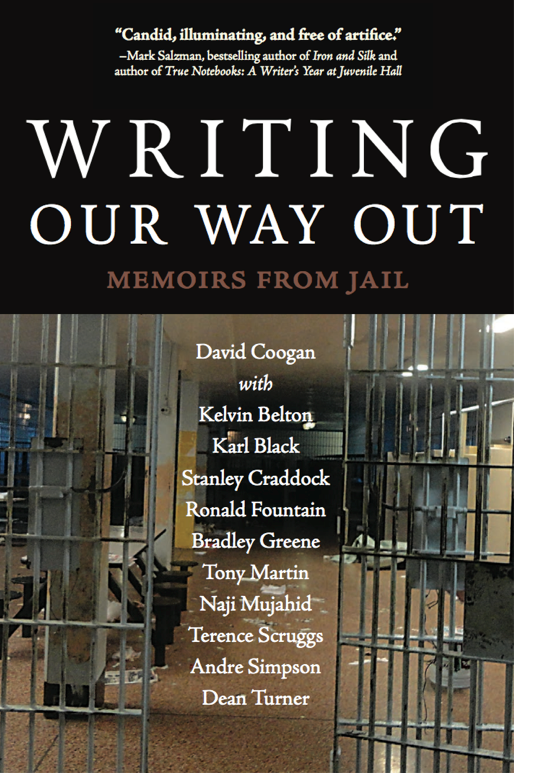 In 2006, author David Coogan asked ten incarcerated men in his writing class at Richmond City Jail to write a memoir about their lives.  Ten years later, all of those men  are free.  Writing Our Way Out: Memoirs From Jail (new window) includes the memoirs of those ten men, and tells the story of how writing helped each man to understand the story of his life in order to change its course.  This event, held on April 20, highlighted the transformative power of  writing and displayed what prison reform movements can learn about education and redemption from the story of these ten men.
The evening featured a reading from Writing our Way Out, followed by a discussion with David Coogan, along with memoir writers Kelvin Belton, Stanley Craddock, Ronald Fountain, Naji Mujahid, Terence Scruggs, and Dean Turner.   
Learn more about Writing Our Way Out (new window).
Book description of Writing Our Way Out:
Detailing the formative and transformative memories of ten men, Writing Our Way Out is the creative culmination of a writing class that began in the Richmond City Jail in Virginia, and grew into a journey to re-entry.  Compiled in a narrative by their teacher, Dr. David Coogan, these stories explore the conditions, traps, and turning points on the path to imprisonment in modern America, as well as the redemptive and rehabilitative power of memoir. 
Praise for Writing Our Way Out:
 "Candid, illuminating, and free of artifice.  Does greater self-understanding lead to redemption?  Does redemption inspire transformation?  Does writing have the power to change lives?  The men in David Coogan's writing class—and Coogan himself—remind us that there are no simple answers to these questions, but it is hard to imagine that anyone, after reading this impassioned book, could bout the value of the endeavour.
–Mark Salzman, author of True Notebooks:  A Writer's Year at Juvenile Hall
"A stunning reminder of the way writing works to help set us free and, at the same time, to help connect us one to another.  If writing is a way out, it is also a way into the depth of ourselves, and reading Coogan's book, we acknowledge that such writing can lead to new beginnings."
–Robert Waxler, founder of Changing Lives Through Literature: An Alternative Sentencing Program, and author of The Risk of Reading: How Literature Helps Us to Understand Ourselves and the World