Valentino Dixon: "Golf Art Saved Me, Georgetown Set Me Free"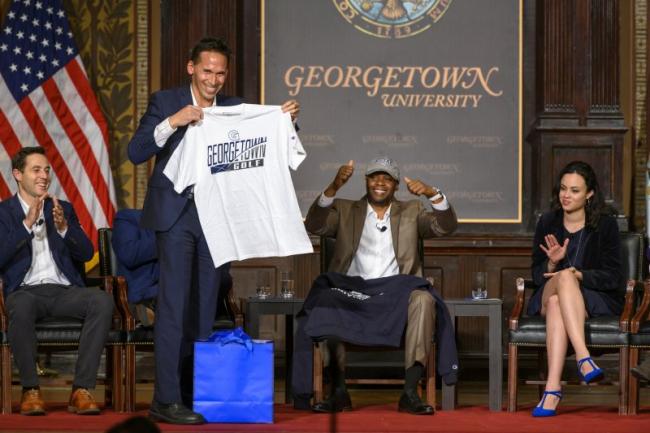 Thursday, November 1, 2018
7:00 PM- 9:00 PM
Gaston Hall (Healy Hall, 3rd Floor)
Georgetown University 
The Prisons and Justice Initiative was thrilled to welcome Valentino Dixon to the Georgetown campus, on Thursday, November 1 at 7:00 PM in Gaston Hall, for an extraordinary event and celebration of his exoneration and release from prison.
After 27 years of wrongful imprisonment, Valentino walked out of prison an innocent man on September 19 of this year. Just four months earlier, he had been featured by PJI's Making an Exoneree project in which Georgetown students created documentaries making the case for the innocence of four men who were wrongfully convicted. In Valentino's case, the students were able to find crucial new evidence that proved critical to his exoneration. Without Georgetown's role, Valentino would likely have remained in prison for many more years.
Valentino's tremendous talent as an artist—who has drawn hundreds of stunningly beautiful images of golf courses—had originally captured the attention of Max Adler, the editorial director of Golf Digest. This combination of golf art and Georgetown has resulted in tremendous positive media attention across the U.S. and around the world. (For a small selection, see the New York Times, Georgetown website, Buzzfeed, and the Today Show.)
The special event featured Valentino Dixon in dialogue with some of the key people who were instrumental to his release, including Max Adler (Editorial Director, Golf Digest), Marty Tankleff (Exoneree and Adjunct Professor, Georgetown University), and Ellie Goonetillake, Julie Fragonas, and Naoya Johnson (the former Georgetown students who cracked open Valentino's case). It will be moderated by Marc Howard, Director of the Prisons and Justice Initiative, who co-taught the Making an Exoneree class with Tankleff.