Fall 2018 Semester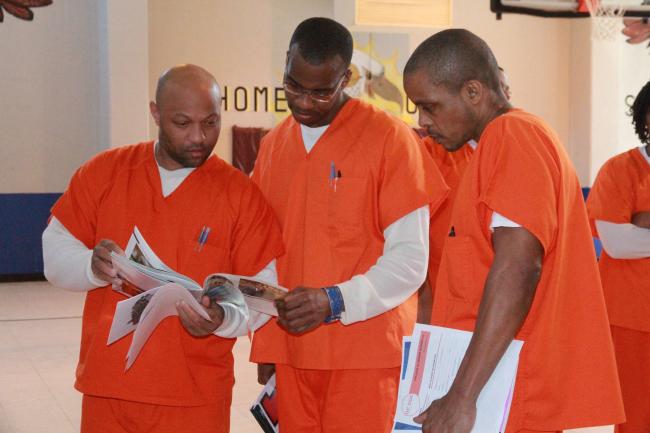 The Fall 2018 semester of the Scholars Program at the DC Jail was the first in which we were able to offer 2 Georgetown credit-bearing courses! After an extensive admissions process, we had a cohort of 14 students, 12 men and 2 women, earning college credits that can be applied toward their pursuit of a Bachelor's degree upon release. Additionally, we continued to offer 7 non credit-bearing courses and the weekly lecture series to 50 men and women incarcerated at the DC Jail.
Check out our new video and some photos from our end-of-semester celebration!
Credit-bearing courses
Democracy: Professor Marc Howard
This course focuses on the concept of democracy, and the process of democratization, in historical and comparative perspective. The lectures and readings will span many countries and most regions of the world, but the course's focus will be thematic, rather than regional. After going over definitions of democracy and democratization, the course will cover the main elements of the three historic "waves" of democratization, followed by the growing literature on different forms of authoritarianism. We will then focus on such topics as political culture, civil society, political institutions, ethnicity and diversity, immigration and citizenship, and democracy assistance. We will close by assessing the future prospects and challenges for democracy and democratization around the world. Several class sessions will include student debates about certain topics that have produced a wide range of scholarly approaches and opinions. By the end of the course, students will be familiar with, and knowledgeable about, many different countries and regions of the world, while also having a firm grasp of the central topics, arguments, and debates in the academic literature on democracy and democratization.
Introduction to Philosophy: Professor Judy Lichtenberg
An introduction to some of the central questions of philosophy through the writings of both traditional and contemporary authors. Questions addressed may include the relationship between mind and matter; between causation and free will; meaning, truth, and reality; knowledge, perception, belief, and thought.
Non Credit-bearing courses
Lecture Series: Various Guests
Fiction Workshop: Bruce Clarke
In this workshop we will read and discuss short stories and plays written by a diverse group of award-winning writers. We'll analyze the basic structure of works of fiction, focusing on plot, character development, setting, and style. Class members will complete short assignments related to the writing techniques we discuss.
Journalism and Politics: Neil Roland
Introduction to journalism, newspapers and politics. A veteran journalist will lead a seminar that explores principles and practices of journalism. Focus will be on newspapers, with discussions of how to read and analyze articles of various kinds.
Music Production and The Carceral Soundscape: Professor Ben Harbert
Both music and environmental sounds influence our experiences of where we are and who we are. Sounds helps us mark time as we wait, they define the character of neighborhoods, and can intervene in the chaos of the urban life. In this class, we will study sound and produce music in our recording studio. We will learn to think about "soundscapes," environments of sound that humans use to gain a sense of place and time. We will use this knowledge to investigate soundscapes of the jail and then figure out ways that the sound of jail could be improved. A major component of the class will be producing music and sounds to be used in the jail in cooperation with the administration. This is a collaborative workshop. Throughout the semester, we will be a creative team of consultants and music producers making, distributing, and installing sounds in our environment.
Philosophy and Film: Professor Hallie Liberto
This course will focus on two themes: well-being and promises. These themes will be explored through reading difficult philosophical texts and watching provocative movies. Questions considered: Is deception justified to make people better off? Can you hurt someone after he or she is dead? Are there certain things that we do these days that are a little bit like getting into an experience machine?
English Literature and Composition: Yael Kiken and Daniel Breen
Reading Group: Crime, Punishment, and The Ethics of Incarceration: Professors Nolan Bennett and Joshua Miller
Debate: Allison Ross (COL '20) and the Georgetown Debate Team