Tyrone Walker joins PJI as Director of Reentry Services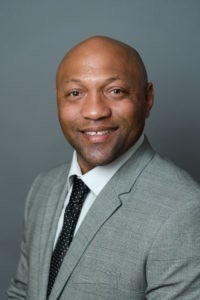 The Georgetown Prisons and Justice Initiative is excited to welcome criminal justice reform advocate Tyrone Walker as Director of Reentry Services. Walker will provide direct support to returning citizens and lead PJI in expanding its outreach and service to District residents navigating their reentry.
"I am excited to be working with the team at PJI and to be in a position to help people achieve success as quickly as possible when they transition back into the community," Walker said. "I am looking forward to sharing my experience in the policy space and more importantly, sharing a new vision of reentry for the Prisons and Justice Initiative."
Walker joins PJI after two years as an associate with the Justice Policy Institute. As PJI's Director of Reentry Services, Walker will work closely with participants and alumni of the Prison Scholars and Pivot programs to develop and support individual reentry plans, connect them with resources, and provide guidance before and during the reentry process. Under Walker's leadership, PJI will also build its relationships with other D.C.-area reentry organizations and expand its reentry initiatives.
"Tyrone Walker is a leader and role model among returning citizens, and PJI is very lucky that he is joining our team," said PJI Director Marc Howard. "His experience and vision will allow us to enhance and expand the support we can provide to our Scholars and Pivot Fellows."
As a former Prison Scholar and Pivot Program Fellow himself, Walker is uniquely qualified to lead PJI's reentry efforts and support its current and former students. Walker took Georgetown classes at the D.C. Jail in 2018 and soon after earned a certificate in business and entrepreneurship through the Pivot Program. It was through a Pivot internship that he began working at the Justice Policy Institute. 
"I'm looking forward to the chance to work directly with the population that I was once a part of," Walker said. "I know that education coupled with reentry support is so vital, and that is what we are going to provide."
Walker has become a leading advocate for incarcerated and formerly incarcerated people and is deeply knowledgeable about the many obstacles facing returning citizens and the services available in D.C. He authored a concept paper outlining reentry recommendations for those returning home after long prison terms under D.C. legislation that allows people whose crimes occurred when they were under 18 to be resentenced. The concept received funding from the D.C. government and through several local organizations and universities now provides services and mentorship to returning citizens as the Incarceration Reduction Amendment Act (IRAA) Project. 
Walker frequently provides his expertise and insight to policymakers and advocates, and he contributed to FAMM's Second Chance Agenda and the D.C. Public Defender Service's comprehensive Reentry Navigator. He has also written for the Daily Beast.
Walker is pursuing his bachelor's degree in political science and government at Fort Hays State University, and he hopes to continue his education at Georgetown.