Paralegal Program Alum Alexis Golden is Spreading Her Wings
Posted in News | Tagged Paralegal Program
Alexis Golden was in college when she unexpectedly got pulled into the criminal legal system after witnessing a violent crime, and the long and difficult experience that followed derailed her education. She had been a strong student and wanted to get back into the classroom, but returning to school felt out of her reach.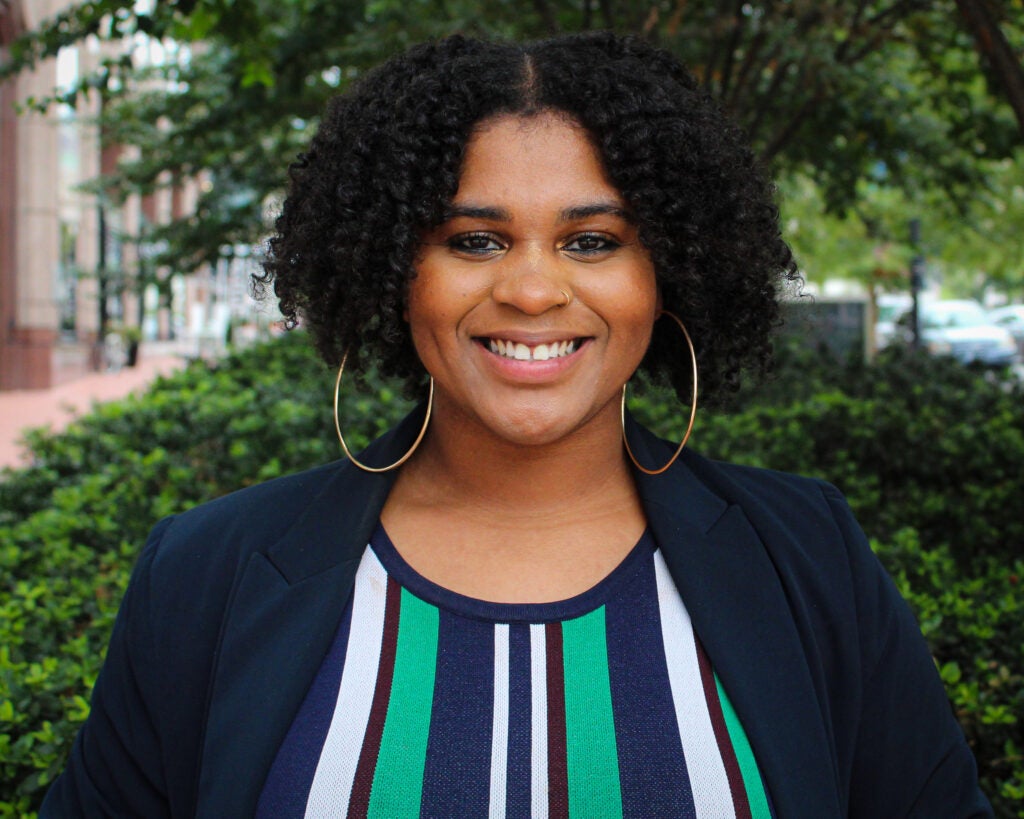 When she heard about the MORCA-Georgetown Paralegal Program, she saw a perfect opportunity to learn and develop the professional skills she needed to support herself and her family.
"I had the tunnel vision of the four-year degree," Golden said. "But when I got off that path, I looked at it as a daunting task. So being able to gain so much knowledge in about four months and actually get a tangible certificate from a college such as Georgetown University is something that kept me motivated."
Golden had developed an interest in family law, which also sparked her desire to explore a career in the legal field. The MORCA-Georgetown Paralegal Program opened the door with a certificate in Paralegal Studies.
Even with her previous experience, the rigorous program wasn't easy, especially while she also tried to provide for her family. However, she said that the mentors she found in program staff and alumni helped her push through difficult moments and ultimately succeed, graduating in the program's second cohort in 2022.
"The rewards that I knew were going to come out of this program helped," she said. "The camaraderie, the alumni, the support I still get from this program just kept me going."
Golden's hard work paid off. She was hired shortly after graduation by the D.C. Office of the Attorney General (OAG), where she is a paralegal specialist on the Policy and Legislative Affairs team. In her role, Golden has a direct impact on D.C. criminal law and policy. She said that because of the Paralegal Program, she is now able to not only support her family but also develop a stable and rewarding career.
"Just to see all of the tools, all of the knowledge that I was given and exposed to in that program, and seeing how I built off of them now in my actual job – I didn't know how to do any of this two years ago," Golden said. "And now this is my career path, people see an actual layout for me, and I can use this to be very lucrative and sustainable for my family."
Policy Director Kate Vlach said that Golden's contributions to the Office of the Attorney General have been meaningful and long lasting.
"Alexis has become an integral member of the Policy & Legislative Affairs Team at the Office of the Attorney General," Vlach said. "She has helped monitor and track D.C. Council hearings, routinized our team's scheduling and filing processes, and ensured that we operate efficiently and effectively."
Vlach continued, "A crowning achievement occurred when Alexis represented OAG in a hearing before the Council at which she testified in support of the 'Commission on Re-Entry Services for Women Amendment Act of 2022.' We are very pleased that Alexis joined our team from the MORCA program."
In her testimony, Golden used her own experience in the Paralegal Program as an example for how education programming provides returning citizens and system-impacted people with a second-chance.
"I am forever grateful to the program," she said in her testimony. "It gave me an amazing new outlook and perspective on life. I feel hopeful."
Golden said the transformative program ultimately brought out the best in her and helped her begin to move confidently forward into the next chapter of her life at just 23 years old.
"This program is a pressure cooker, like a chrysalis for a butterfly," she said. "And a caterpillar has to molecularly break down in order to become a butterfly. And I've never seen a butterfly turn back into a caterpillar, meaning that with this education, this knowledge, I don't see myself going back."