Returning Citizens Graduate from Georgetown Paralegal Program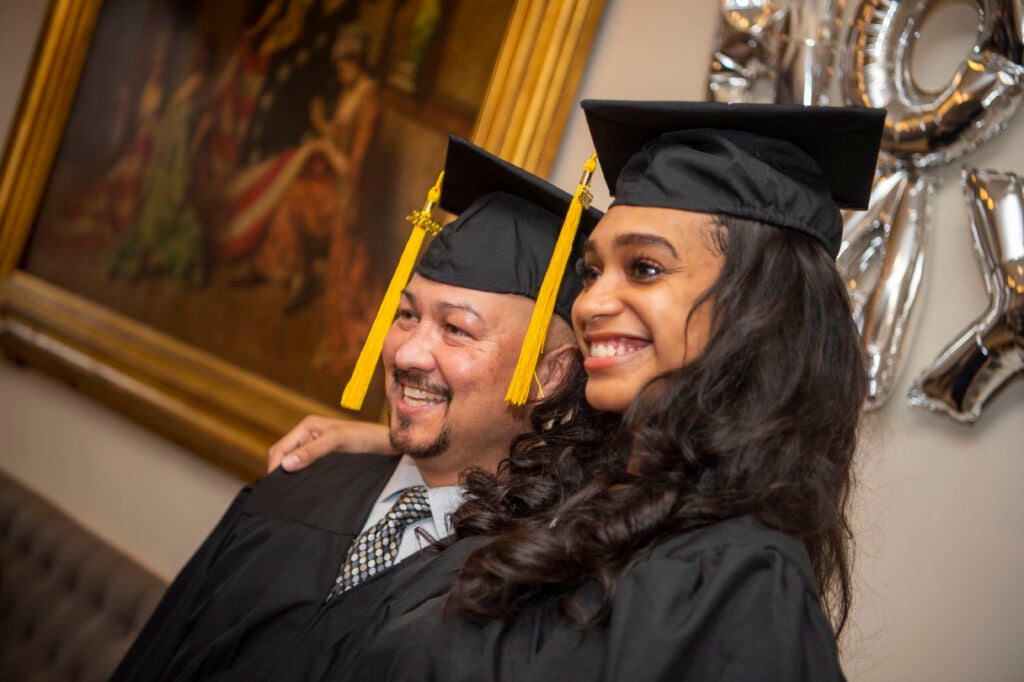 A group of returning citizens celebrated their graduation from a Georgetown University certificate program at a ceremony on Feb. 4. Now, the graduates of the MORCA-Georgetown Paralegal Program will begin full-time positions as qualified legal professionals.
The program combines paralegal education and training with professional development and job placement support. It provides formerly incarcerated District residents with the skills and connections to reenter the workforce and begin rewarding careers in the legal field. The program is a partnership between Georgetown University, the D.C. Mayor's Office on Returning Citizen Affairs (MORCA), and the Department of Employment Services (DOES).
"You stood out as a person who is ready to take what you learned here, combine it with your own life experiences, and launch a successful legal career," Mayor Muriel Bowser told the graduates in a video message. "In doing so, you're not only giving yourself a fair shot, but you'll help other Washingtonians get the fair shot and second chance they deserve."
Ten returning citizens graduated from the program at a ceremony on Georgetown's main campus. Addressing her fellow graduates and the friends and family who gathered to celebrate their accomplishment, Brianna Stutson recalled how she often felt discouraged as she struggled to find opportunities for work, education, or professional training after she returned home from incarceration.
"I knew I was intelligent. I knew I had valuable skills that could take me places. But bearing the title of felon and young mother of two was a challenge. As much as I tried to work around it, it was as if my past was controlling my future," she said.
Applying for the paralegal program – even as she learned she would become a mother of three – was one of the best decisions she's ever made, Stutson said. Now, she is working as a paralegal at law firm Kirkland & Ellis.
"My experience at Georgetown was challenging, rigorous, demanding, and most of all, it was rewarding," she said. "No matter what obstacles stand in your way, no matter what challenges, you can do it."
For 16 weeks, the program's students took classes and studied full time with Georgetown faculty at the School of Continuing Studies. The accelerated curriculum covered key paralegal skills including legal research and writing, contracts, litigation, ethics, and trademark, immigration, criminal, and civil law. Students earned an hourly stipend while they completed the program.
Creating second chances
Through the program, the D.C. government and the university aim to open doors for returning citizens and contribute to a larger shift in perceptions and policies that hold them back. The first cohort launched in 2018 and graduated nine students.
The program was created "based on the idea that while many incarcerated people have tremendous legal backgrounds, skills and experiences upon their reentry, they were unfairly being excluded from the legal profession due to their criminal record," said Marc Howard, director of the Georgetown Prisons and Justice Initiative.
"We're helping to break down these barriers by showing that formerly incarcerated people should be valued in the workplace, including in the legal field," he said.
D.C. Councilmember Robert White has been a leading supporter of the program and said initiatives like it provide returning citizens with a foundation to stand on as they return home and rebuild lives and careers.
"When you leave here, you all walk around this city as examples of the power of a second chance, an example of what we can do if we support people for whom we have dropped the ball many times," White said in his keynote address at graduation. "We are so incredibly proud of you, and I cannot wait to see all the things that you accomplish."
Graduates gather before the commencement ceremony

The graduates of the MORCA-Georgetown Paralegal Program

Charles Jones, Deputy Director of the Division of State Initiatives, Department of Employment Services

D.C. Councilmember Robert White

D.C. Councilmember Trayon White

Corey Brooks Pace, MORCA-Georgetown Paralegal Program Faculty Director

Graduate Brianna Stutson

Graduate Timothy Thomas