Making An Exoneree 2023: Students Shine Light on Wrongful Convictions
Posted in News | Tagged Making an Exoneree
Students in the Making An Exoneree program shared the stories of five wrongfully convicted people through powerful short documentaries that they presented during a May 2 event at Georgetown University. The films are at the center of the students' efforts to advocate for the freedom of innocent people in prison.
Through Making An Exoneree, now in its sixth year, Georgetown University undergraduate students spend the spring semester reinvestigating cases to discover the facts – and falsehoods – behind wrongful convictions. They study case files, speak with experts, interview witnesses, review evidence, and get to know the wrongfully convicted individuals and their loved ones. This year, students focused on the cases of Ha'son Cleveland, John Kinsel, Sarah Pender, Billy Pennington, and Jamie Snow – who have served a combined 95 years in prison.
Addressing the audience by phone from prison in West Virginia, Cleveland said, "I feel hopeful, inspired, and supported by such a wonderful group of people."
"These amazing young women have worked so hard, dedicating themselves, making sacrifices, doing the footwork, the research that changes lives," Cleveland said of the students who worked on his case. "They've become friends, they became family, and through their honest effort and diligence, these young women have garnered my trust."
The students hope that their work can build momentum in these decades-old cases, draw renewed attention to the stories, and ultimately help innocent people get one step closer to walking out of prison – following in the footsteps of Valentino Dixon, Eric Riddick, Keith Washington, Arlando "Tray" Jones III, and Kenneth Bond, who have all been freed since the program's start.
"Wrongful conviction is a super flagrant example of injustice, but injustice absolutely permeates the entire criminal justice system."

Isabella Todaro, Team Sarah Pender
"As I know from personal experience, the criminal legal system is not designed to correct its mistakes," said Making An Exoneree co-professor Marty Tankleff, who was himself wrongfully convicted. "These stories and these students can offer hope in hopeless situations."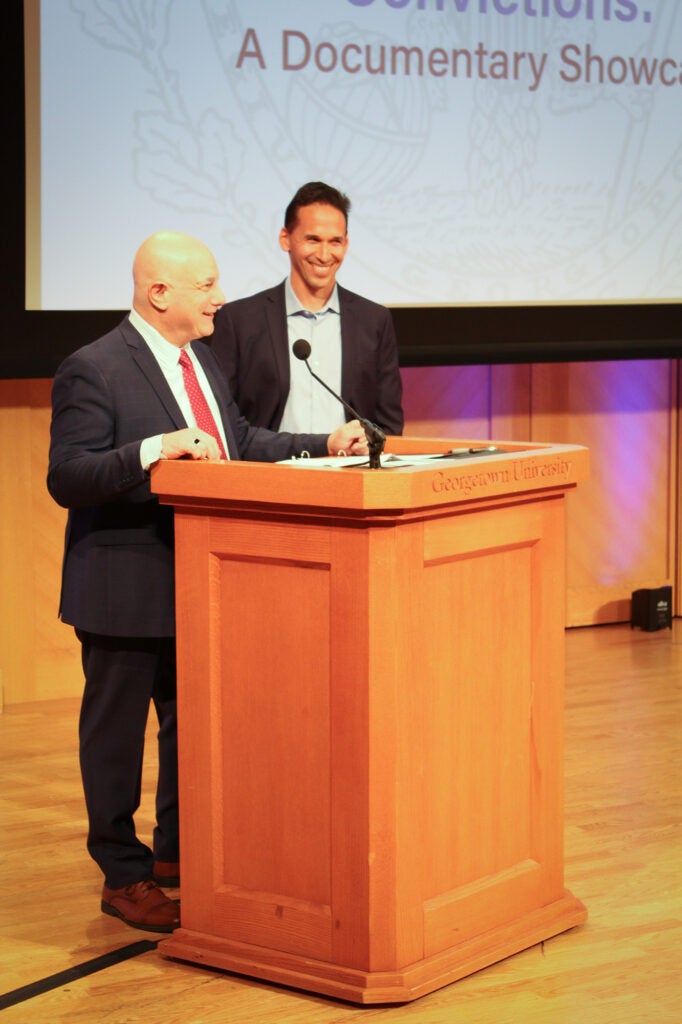 For the past two years, the Georgetown students have partnered with film and digital media students at the University of California, Santa Cruz to create the documentaries. Fifteen UCSC students, led by professor Sharon Daniel, collaborated with the Georgetown teams on the video productions, as well the design and launch of websites and social media accounts to raise awareness about the cases. This year, a group of students from Georgetown Law also joined the undergraduates to offer support in legal research and strategy.
Making An Exoneree is co-taught by Tankleff and Marc Howard, who were inspired by Tankleff's own experience: Tankleff was wrongfully convicted for the murder of his parents as a teenager and spent nearly 18 years in prison before he was exonerated. Friends since childhood, Tankleff and Howard developed Making An Exoneree around the belief that motivated students can have a direct impact in the lives of other people experiencing similar injustice.
"Marty and I launched the Making An Exoneree program five and a half years ago because we believed that undergraduate students could make a difference in the lives of wrongfully convicted people, and that we could help bring them home through a combination of meticulous reinvestigation and powerful storytelling," Howard said.
This year, Making An Exoneree's reach grew even further as Princeton University launched its own course modeled off of Georgetown's, with support from the Prisons and Justice Initiative team and the Georgetown Law students. Led by Professor James Raymond Vreeland, the Princeton students created four documentaries of their own and are set to show them for the first time at an event on May 11.
"We cannot achieve justice without your support. Ha'son deserves to have his story told."

Alysha Orbach, Team Ha'son Cleveland
Get Involved and Share These Stories
Note: The documentary featuring Sarah Pender is not currently available for public distribution.
Ha'son Cleveland
Why has Ha'son Cleveland been in prison for 17 years for a murder that two other women have confessed to? This documentary tells the story of how Ha'son was wrongfully convicted and sentenced to life without parole for the murder of his girlfriend.
Documentary by Jasmine Donohue-Ozyar, Daria Farman-Farmaian, and Alysha Orbach from Georgetown University and Andreu Ariciaga, Andrea Pastor, and Raven Pavao from the University of California, Santa Cruz, with support from Kyla Osburn from Georgetown Law.
John Kinsel
Who, more than any other, is fighting to get John Kinsel out of prison? The woman who put him there. In this documentary, the alleged victim at the center of John's case shares her story and calls for John to be freed.
Documentary by Justin Cassera, Jack Healy, and Yu Jin "Claire" Kim from Georgetown University and Jay Oliveros, Cole Pena, and Jackson Whitney from the University of California, Santa Cruz, with support from Max Demers from Georgetown Law.
Billy Pennington
At 18, Billy Pennington pleaded guilty to a murder he did not commit. This film unravels the faulty evidence, lies of the key witness, and the pressure Billy and his family were under to make a deal with his life.
Documentary by Alexandra Baird, Maeve Foley, and Jordynn Jenkins from Georgetown University and Marcel Bell, Kahena Wilhite, and Jordan Wilson from the University of California, Santa Cruz, with support from Mark Tucker from Georgetown Law.
Jamie Snow
Can you remember a stranger's eyes after seeing them briefly from 200 feet away in the dark? What about eight years later? One witness claimed he could do just that, and Jamie Snow has been incarcerated for over 23 years for a crime he didn't commit.
Documentary by Isabella Chiu, Jackson Edwards, and Maddy Langan from Georgetown University and Madeline Finkel, Kata Garcia De La Rosa, and Danny Moshayedi from the University of California, Santa Cruz, with support from Vanessa Torres from Georgetown Law.
---