Dialogues on Being Human: The Intersections of Art, Health and Dignity with Jesse Krimes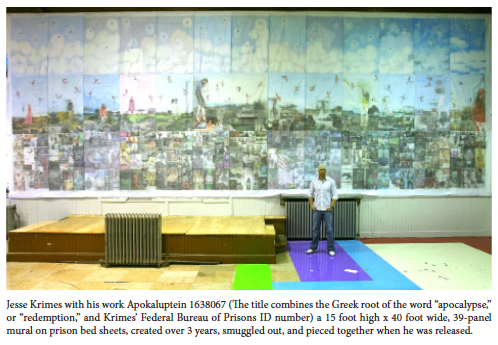 Thursday, February 23
5:00pm: Exhibition of Purgatory
Spagnuolo Gallery, Walsh Building, 1221 36th Street NW
6:00 – 7:00pm: Dialogues On Being Human
Bioethics Library, 102 Healy Hall, 3700 O Street NW
7:00 – 8:00pm: Reception
Bioethics Library, Healy Hall
Georgetown University's Department of Art and Art History, the Prisons and Justice Initiative, and the O'Neill Institute for National and Global Health Law was proud to join in presenting Jesse Krimes' Exhibition of Purgatory. 
Artist Jesse Krimes conveys the dehumanizing experience of incarceration through a compelling body of work clandestinely produced over 6 years in jail while serving time for a non-violent drug offense. Surviving his odyssey through the criminal justice system by producing art, Jesse's work embodies themes of alienation, purification, redemption, social stratification and power.
The Health and Human Rights Initiative at the O'Neill Institute invited Jesse Krimes to speak on the themes which permeate his artwork, including the dehumanizing aspects of incarceration and the Criminal Justice System. Jesse was also joined by Alicia Ely Yamin, Director of the Health and Human Rights Initiative and Marc Howard, Director of the Prisons and Justice Initiative for a dialogue discussion, which brought a multidimensional perspective to the topic.