Immigration and Community Policing in the Age of Trump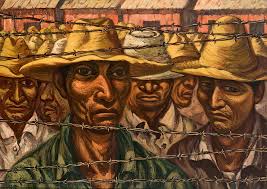 Wednesday, April 5, 7pm – 9pm
New South Film Screening Classroom, Healy Family Student Center
 
The Prisons and Justice Initiative will host a panel of experts to discuss the impact of "crimmigration" on Latino communities. The event is co-sponsored with the Georgetown University Black Law Students Association and the Georgetown University Latin American Law Students Association.
Latino and immigrant communities are facing increased scrutiny from federal immigration officials, and the risk of detention, deportation, and family separation has increased under President Trump, who made illegal immigration a focal point of his campaign. Collaborative programs between ICE and local law enforcement introduce additional risk for members of these communities when interacting with police, who are sworn to protect all members of the community regardless of race, ethnicity, and citizenship status. This panel tackles questions around the intersection of local policing and immigration enforcement, the status of sanctuary cities and their limits, and the legal terrain faced by immigrants targeted by these policies. Please join the Prisons and Justice Initiative for a provocative, vibrant, and important discussion on the connections between immigration and criminal justice. 
Panelists include Don Kerwin (Center for Migration Studies), Adina Applebaum (Capital Area Immigrants' Rights Coalition), Nadine Wettstein (Maryland Office of the Public Defender Immigration Program Director), and Katie D'Adamo (DC Public Defender Service Immigration Attorney). Hannah Walker (Prisons and Justice Initiative Postdoctoral Fellow) will moderate the panel.