Making an Exoneree: 2022 Documentary Showcase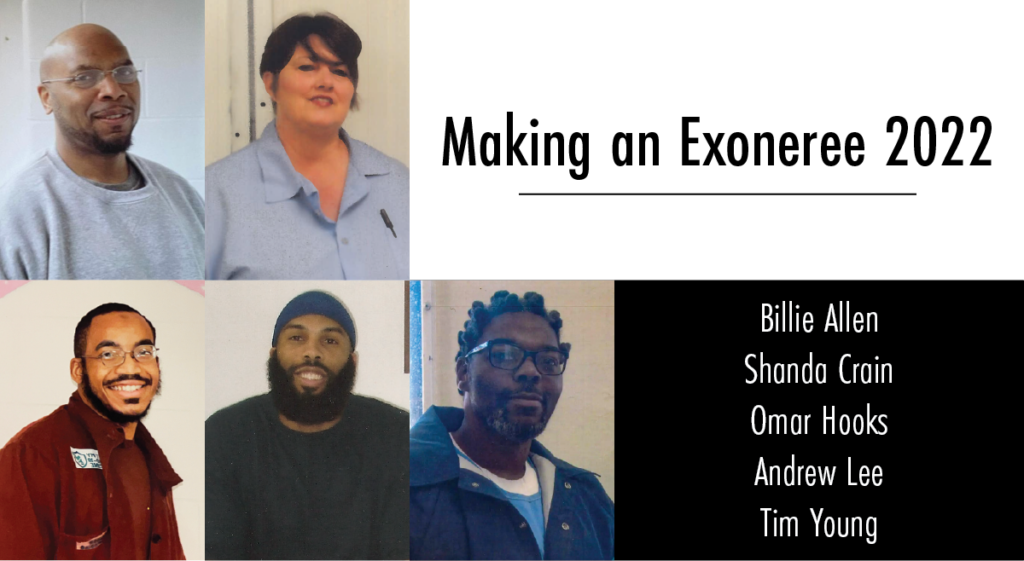 The 2022 Making an Exoneree course presents five documentaries that investigate wrongful conviction cases and tell the stories of people who remain incarcerated for crimes they didn't commit.
The 15 Georgetown undergraduate students in the course, taught by professors Marc Howard and Marty Tankleff, spent months reinvestigating the cases, reviewing evidence, conducting interviews, and working to unravel these wrongful convictions. They worked with students at the University of California Santa Cruz to create documentaries, websites, and social media campaigns.
Together, these students hope that through storytelling and advocacy, they can help free these innocent people — two of whom are on death row.
Join us for the premiere of these five powerful documentaries and hear directly from Billie Allen, Shanda Crain, Omar Hooks, Andrew Lee, Tim Young, and the students working to bring them home.
When: Wednesday, May 4, 2022
Light food and drinks served from 6 p.m. – 7 p.m.
Event begins at 7 p.m.
Where: Intercultural Center (ICC) Auditorium
Georgetown University, 3700 O Street NW
This hybrid event will also be available via Zoom. Click here to register for the Zoom webinar.

COVID policies:
All attendees who are not current members of the Georgetown community must complete the following steps:
Submit your COVID-19 vaccination at this link. If you have a medical or religious exemption, you must take a PCR test within 72 hours of the event.
On the day of the event, you will receive a link by email to complete a health attestation.
Masks are currently required on Georgetown's Main Campus.
Contact: With questions, please contact Evelyn Rupert at er850@georgetown.edu