Spring 2019 Semester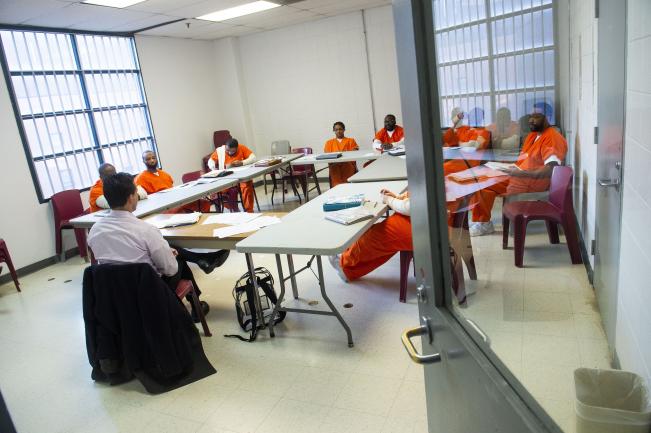 Our credit bearing cohort is continuing on their Liberal Studies pathway during the Spring semester with two new courses. We added 13 new students, bringing our total cohort of credit students to 20. Additionally, we are currently offering 7 non-credit bearing courses and the weekly lecture series to an additional 35 students.
Credit-bearing courses
Non Credit-bearing courses
Lecture Series: Various Guests
January 17– "Introduction to the Lecture Series": Marc Howard, Joshua Miller, and Aliyah Graves-Brown
January 24– "Criminal and Juvenile Justice Reform in The United States": Marc Schindler
January 31- "Populism": Binio Binev
February 7- "War & Peace: Understanding Trends in Global Conflict: Tarek Ghani
February 14- "Global Health: Saving Newborn Lives": Lara Vaz
February 21- "Black Culture, Black Politics": Robert Patterson
February 28- "Ella Baker and the Black Freedom Movement": Marcus Board
March 14- "China's Economic Rise and Political Development": Kristen Looney
March 21- "What Will Health Care Look Like in 2025?": Jason Bello
March 28- "Speechwriting: It Doesn't Matter What You Say If No One Remembers It": Sean O'Brien
April 4- "Religion, Storytelling, and Prison Justice": Alphonso Saville
April 11- "The Orange Jumpsuit Project": Sherrill Roland
April 25- "Remaining Awake Through a Great Revolution": Rev. Brad Braxton
May 2- "Golf Art Saved Me, Georgetown Set Me Free": Valentino Dixon
May 9- "Navigating College and the Future of Higher Education": Kelly Otter
Fiction Workshop: Bruce Clarke
In this workshop we will read and discuss short stories and plays written by a diverse group of award-winning writers. We'll analyze the basic structure of works of fiction, focusing on plot, character development, setting, and style. Class members will complete short assignments related to the writing techniques we discuss.
Journalism and Politics: Neil Roland
Introduction to journalism, newspapers and politics. A veteran journalist will lead a seminar that explores principles and practices of journalism. Focus will be on newspapers, with discussions of how to read and analyze articles of various kinds.
Political Science: Professor Cathy Schneider
Democratic Erosion and Authoritarianism, we will explore the issue of democratic backsliding in general, and America's retreat from democratic representation, in undermining American support for democratic rule.
Tenacity: Emily Durso
"Tenacity" is a full service set of tools for success in the workplace. Incorporating such scenarios as: how to work as a team, working with people very different from you, what happens when you make a mistake, how to talk to your supervisor, "netiquette" or how to write an email in a professional and respectful manner. The workplace has a code of behavior that once you understand the rules, you will fit in and understand your role and responsibilities creating a successful work experience.
Debate: Allison Ross (COL '20) and the Georgetown Debate Team