Catherine Abrams
Social Worker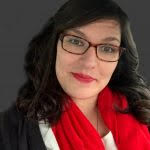 Catherine "Cat" Abrams is the first social worker to join the PJI Team. In her role as PJI Social Worker, Cat brings additional support and clinical assistance to the PJI students, fellows, and staff. Cat holds independent clinical social work licensure in Maryland and Washington DC. She also holds certification as a substance abuse counselor and registered peer supervisor. Cat earned her bachelor's and master's degrees in Social Work from Salisbury University. Additionally, Cat completed certificates with The University Institute of Lisbon, Portugal (ISCTE-IUL) in Alternatives to Incarceration, European Drug Policy, and Community Violence and Harm Reduction. Cat was sponsored by the European Monitoring Center for Drugs and Drug Addiction (EMCDDA) to participate in the 2019 European Drugs Summer School.
Cat spent 6 years working as a clinical staff member inside numerous Maryland State Correctional Institutions. Her work in the prison system included release planning for many of Maryland's Juvenile Lifer population, crisis intervention, officer training in mental health and substance use, and development of the state's largest Peer Specialist program. Prior to her work behind the walls, Cat worked as a clinician in Maryland community re-entry, alternative sentencing, and drug court programs. She is passionate about working with individuals, families, and communities that have been touched by the legal system. She believes in empowering, supporting, and advocating for those in our communities who many providers refuse to work with. Cat strives to see the humanity and understanding in everyone and approaches each individual with empathy.
In addition to her work with PJI, Cat provides individual therapy to women with a history of chronic trauma including child abuse, sexual violence, and domestic violence. She sits on the Maryland Addiction & Behavioral-health Professionals Certification Board as the Committee Chair for the Education and Credentialing Committee and she is the co-founder of RECTIFY, a clinical case management and trauma informed reintegration program in Maryland.