Making An Exoneree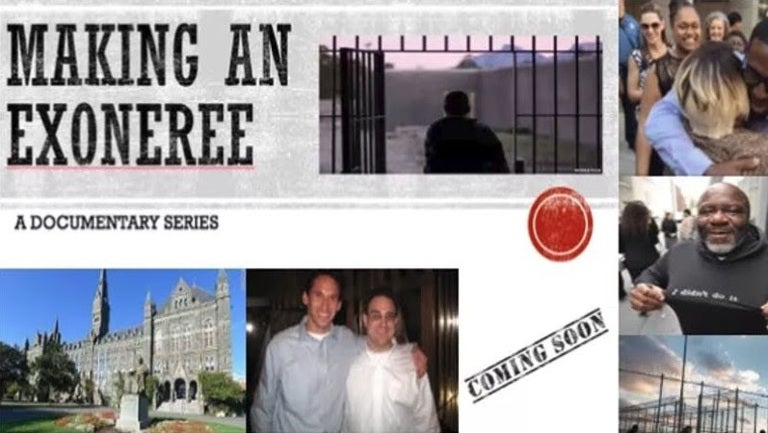 The Prisons and Justice Initiative proudly invites you to our final event of the 2017-18 academic year:
"Making an Exoneree": The Prison Reform Project
Monday, April 30 at 7pm
ICC Auditorium
Food and refreshments will be served at 6:30pm
Please join the Prisons and Justice Initiative for "Making an Exoneree," a powerful and moving event that highlights the life-changing work of the 16 Georgetown students taking the "Prison Reform Project" class, taught by Professor Marc Howard and Adjunct Professor and 2008 Exoneree Martin Tankleff. Howard and Tankleff are childhood friends, and Howard helped Tankleff secure his exoneration after more than 17 years of wrongful imprisonment. Now they have joined forces to inspire their students to help free other wrongfully convicted people.
The students have focused on four potential exonerees who have been incarcerated for a total of 96 years. They have created short documentaries that make the case for innocence, while seeking to inspire their audience to create social, moral, and legal pressure to correct these judicial errors. The class itself has been covered by a TV production company for a 6-episode series that should air within the next year.
Come watch and listen to these amazing Georgetown students become the voices of these potential exonerees.
This extraordinary event will also be attended by other exonerees, the attorneys who helped to free them, and the family members of the four wrongfully convicted men that our class is trying to free.
Learn more about the cases by visiting each group's website:
John Moss: 38 years
Valentino Dixon: 26 years
Kenneth Bond: 23 years
Tim Wright: 9 years